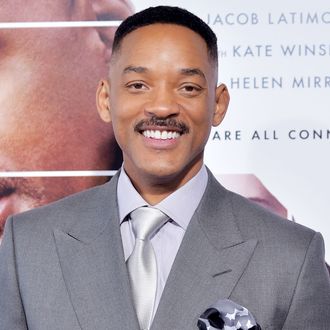 Photo: Theo Wargo/Getty Images
Update February 10: After getting our hopes up, Deadline reports that Disney and Smith just couldn't work it out in negotiations, and are going their separate ways. Our original post appears below.
**
It's been too long since Will Smith has given us his best Big Willie Style hedonism. The doom and gloom of Suicide Squad didn't have enough time for his best humor, but Tim Burton's new Dumbo movie might make room under the big top for more of the actor's electricity. Somewhere between the two Bad Boys movies currently in preproduction, the actor will return to making movies for kids (the last time he did a kids' movie full of adult innuendo was 2005's Shark Tale). Smith is rumored to be eyeing a lead role in Disney's live-action Dumbo, according to Deadline; the movie will work from a script written by Brothers Grimm scribe Ehren Kruger. When Burton was announced as Dumbo's director, The Hollywood Reporter confirmed that the movie will mix CGI and live action, and will "add a unique family story that parallels Dumbo's journey." With some extended family in play, Smith's starring role might not be that of the big-eared hero of the original — maybe he stays bad and has some fun as a Disney villain à la Angelina Jolie?