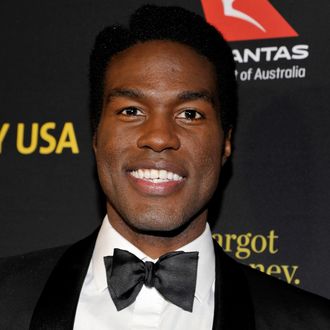 Black Manta arrives.
Photo: John Sciulli/Getty Images for RS/TV, Inc.
Aquaman has never been one of the better-known (or at least better-understood) heroes in the DC Comics pantheon, so it's unsurprising that his arch-nemeses are even less familiar to the average John and Jane Doe. One such baddie is Black Manta, who older members of our readership might remember as one of a member of the Legion of Doom in the long-departed Super Friends cartoon series. DC Entertainment is hoping to make him a star in the James Wan–directed, Jason Momoa–starring Aquaman film, and The Hollywood Reporter says they've found their dude in the form of Yahya Abdul-Mateen II, a relative unknown whose only major role was that of Cadillac in Baz Luhrmann's The Get Down.
The casting signals a wise choice not to whitewash the character, who is traditionally portrayed as African-American. It's also interesting that they'd cast someone so obscure as such a major figure in one of their tentpole pictures — superhero movies generally cast recognizable names in their villain roles, something they're able to do because the actors only have to do one movie and get defeated/killed at the end. Black Manta's basic gist is that he's a bitter human with a childhood vendetta against Aquaman (the specific nature of which has changed a bit in different stories over the years) and has built a murderous underwater diving suit in order to clash with his rival. His helmet looks like a flying saucer, and if Warner Bros. doesn't stick with that visual, they're just leaving money on the table.
Update: Later in the day, THR got another Aquaman scoop: Apparently, eternally regal Aussie Nicole Kidman is in talks to play the title character's mother, Atlantean aristocrat Atlanna. Traditionally, Aquaman's origin story involves Atlanna mating with a human lighthouse keeper and begetting our half-breed hero. Amber Heard is already onboard to play love interest Mera, Patrick Wilson is playing another baddie named Orm (Aquaman's half-brother, so presumably also Atlanna's son), and Willem Dafoe is a noble adviser named Dr. Vulko.