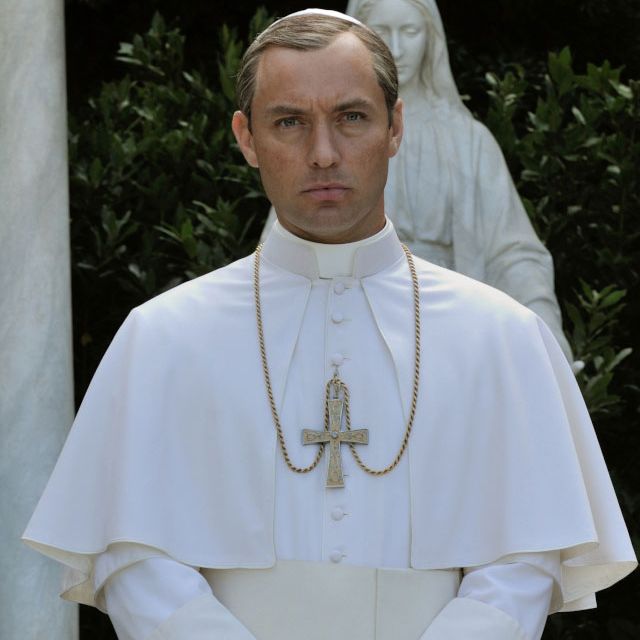 Viewers of this Monday's episode of The Young Pope were treated to a decisively non-Italian cutie pie within the confines of Vatican City, and we're not even talking about Pope Pius XIII (Jude Law) himself. Surveying a massive room full of gifts presented to him by notable world leaders and dignitaries, the pope diverts his attention from cigarette lighters and other assorted treasures and walks toward a large metal cage upon hearing muffled grunts. Peeling off the cage's tarp, he discovers that the gift, presented by the Australian foreign minister, is none other than a bona fide kangaroo. Crickey! "You can come out, sweetie," the pope says to the sizable 'roo, as his half-terrified, half-amused papal posse looks on. "We'll set him free in the gardens." The unnamed marsupial, it seems, will not be going to the Bioparco di Roma as originally planned, and is instead roaming freely as the Vatican's new unofficial mascot.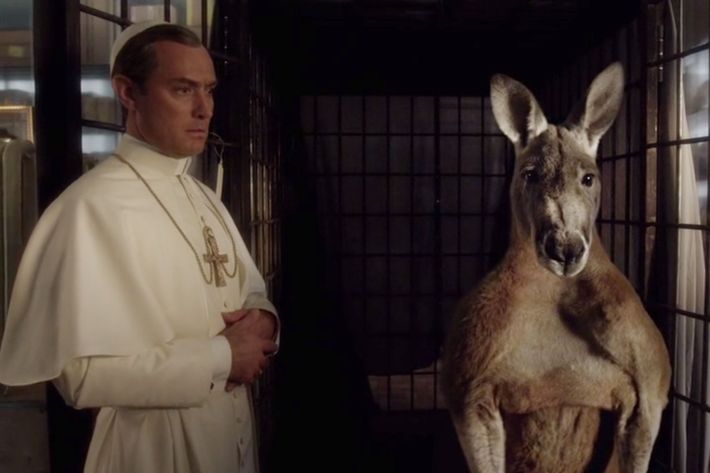 The short scene surely provides a nice moment of comic relief, but we also wondered: Was showrunner Paolo Sorrentino actually able to wrangle a living, breathing kangaroo on set? The answer, unfortunately, was no. "Even if our country is so rich in architecture and landscapes to draw on in order to re-create the most diverse environments, alas, finding a trained kangaroo in Italy proved impossible," production designer Ludovica Ferrario explained to us. "CGI modeling was necessary, with a small contribution from production design. It was necessary for those who would then work on the postproduction to be aware of the actual volume of the animal in the scene, as well as for the actors to imagine its sheer presence."
The artistic rendering of the kangaroo ended up being created through a mix of sculpture and painting. "We decided with Paolo to sculpt two kangaroos to simulate this Australian gift to the pope in two different sizes and positions," Ferrario continued. "Despite research by an assistant of mine to find hides with which to cover our mockups, we eventually decided to paint our two creatures green." They then skillfully recreated the green sculpture in every detail in the postproduction stage.
Until next time, Young Pope, Kangaroo Whisperer.