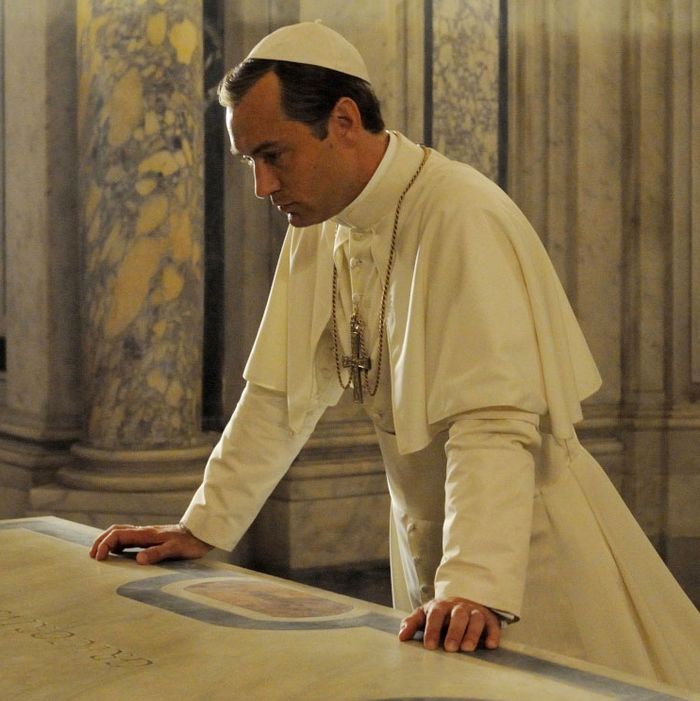 If the premiere episode of HBO's The Young Pope offers any hints about what's in store for the rest of the season, it's to expect complete and utter tonal dissonance. This is perhaps most evident in the music, which eschews quintessential hymns in favor of a pulsating electronic and guitar-heavy score.
"Leaving aside the difficulty of rationalizing a creative process that is the product of intuitions and of chance, I would define the score as a sort of musical syncretism," Young Pope music supervisor Lele Marchitelli told us. "Or a convergence of apparently irreconcilable elements, or a musical promiscuity." Marchitelli worked closely with showrunner Paolo Sorrentino to flesh out the original score and song options, which he likens to having the flair of one long film as opposed to a ten-episode television series.
"My intention was to represent the intimate tension of the characters in the film — a sort of terror with regard to faith, a fear of the absolute," he said. "When all these sensations add up and intersect, there's a need for contrasting sounds and colors. The religious atmospheres and the rougher sounds can convey these emotions." Throughout the season, this contrast takes the melodic form of Marchitelli's own work as well as the likes of Andrew Bird, Jefferson Airplane, Jeff Buckley, and LMFAO to help depict daily life at the Vatican. The opening-title sequence even features an updated instrumental version of the Jimi Hendrix classic "All Along the Watchtower" as the pontiff strolls by virtuoso old master paintings in a hallway.
Marchitelli and Sorrentino also made sure the music choices didn't merely serve as background noise, but instead enhanced a scene "with character and with a voice" in a thrilling manner. "Basing myself on these indications, and reading the script, I started writing themes and developing atmospheres that we later used in the series," Marchitelli said. "The script was very precise and clear. The music wasn't supposed to guide the narration, but support it and follow it." The results are, undeniably, the most sensual tunes to ever come out of Vatican City.