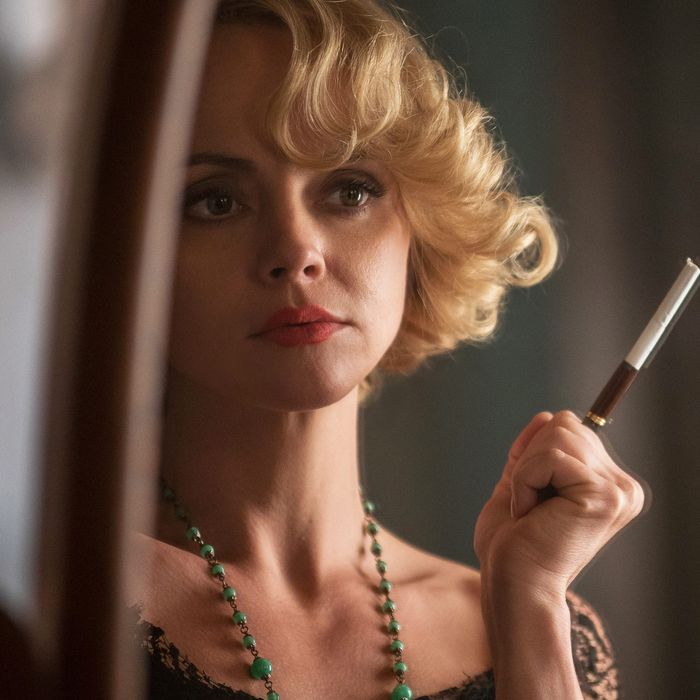 Christina Ricci as Zelda Fitzgerald.
Photo: Nicole Rivelli/Amazon
Well-behaved women seldom make history. That is why, nearly 70 years after her death, famous misbehaver Zelda Fitzgerald is still actively being discussed and dissected, in books, films (Hollywood has two in the works at the moment), and, now, on television.
Z: The Beginning of Everything, a new Amazon series that starts streaming today, tries to capture the many facets of this complex and conflicted woman, and does so with some success. There are moments when it's exhilarating to be immersed in the 1920s with Great Gatsby author F. Scott Fitzgerald (David Hoflin) and his wife/muse (a fierce, focused Christina Ricci), particularly after the Fitzgeralds marry, join New York's cultural elite, and famously begin fighting, drinking, and dancing in public fountains. At its best, Z, based on Therese Anne Fowler's novel about the flapper-era icon, is a like a much more serious, U.S.-based, Fitzgerald-focused spin on the time-travel sequences in Midnight in Paris.
But there's ultimately something too restrained about this ten-episode series. It establishes, for example, Zelda Fitzgerald's reputation for bucking convention in ways considered daring for the time. But even though we see her do things that fall in the daring category — like shutting down a post-wedding party by announcing, while fully naked, that she and her new husband need some alone time — Z: The Beginning of Everything doesn't fully capture the energy or sense of unpredictability that swirled around her. Zelda, Scott, and their growing group of friends aren't bright young things; they're more like reasonably illuminated young things.
Z covers a thin slice of the Fitzgerald history, starting near the end of World War I, when the two first meet in Zelda's hometown of Montgomery, Alabama, and concluding at, roughly, the beginning of 1921, when marital storm clouds have already started to gather, but Zelda has not yet actively started struggling with mental illness. Period pieces typically unfold in one-hour increments. But Dawn Prestwich and Nicole Yorkin, the creators of Z, who previously wrote for The Killing, smartly allow this narrative to unspool in half-hour chunks, which keeps the pace tight and prevents the episodes from sagging under the weight of excessive drama.
Speaking of drama, breaking news from the 1920s, everyone: F. Scott Fitzgerald was kind of an asshole! At least he was based on the way the show portrays him. That portrayal is understandable since this is Zelda's story, told from Zelda's perspective. And from that perspective, the great American novelist comes across as an insecure narcissist who squashes Zelda's ambitions while often stealing her prose and passing it off as his own. Hoflin is handsome in a way that evokes a young Robert Redford, and, as Scott, he relies on Zelda to a degree that clearly makes her feel special. But in addition to being a raging, inconsiderate alcoholic, he also can be insufferably arrogant. "I'm going to be a famous writer someday," he shouts after Zelda while trying to court her. "You should know that." I mean: Dude's not wrong. Nevertheless, at times, it's hard to understand why Zelda feels so compelled to stick by him.
That's hard to understand, in part, because Ricci, also an executive producer of the project, infuses Zelda with so much backbone. The actress has a pair of supermoons for eyes and they successfully project the fragility in Zelda, especially as she tries to find a place for herself amidst the agents, editors, and Ivy Leaguers. But with Ricci as her conduit, Zelda is always the most down-to-earth, intuitive person in any room. It's a very good performance, but it also begs to be a little more messy and vulnerable.
Some of the supporting players, like actress and friend Tallulah Bankhead (Christina Lind) and her sister Eugenia (Natalie Knepp), are like stock versions of pretentious New York snobs. (The former Bankhead repeatedly hints at her sexual interest in women, usually while a martini glass is glued to her hand.) But others evolve over the course of the series in ways that enrich and deepen our understanding of Zelda Fitzgerald outside of her relationship with her husband. The great David Strathairn and Kristine Nielsen play Zelda's parents, but rather than turning them into your standard, uptight Southerners, they vacillate between expressing warm support and genuine, blunt concern for their daughter. When they realize how much she's been altered by hitching her star to Scott Fitzgerald's, their disappointment is heartbreaking to witness.
Season one doesn't end on a note of finality, and there's enough good here to warrant another season. Even though there may be a Zelda movie or two coming to the big screen, this woman, a writer whose words were overshadowed by the man she loved, deserves to have her story fully told with the kind of detail that episodic television is uniquely equipped to provide. There's enough potential in Z: The Beginning of Everything to suggest that it should keep going until it reaches a fitting conclusion.