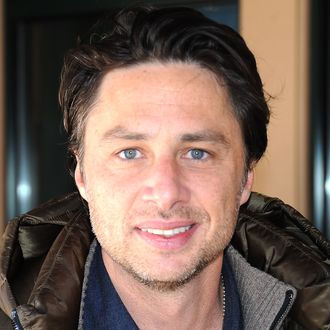 Photo: Clayton Chase/Getty Images for LG Music Lodge
Zach Braff hasn't had a series regular role since his smash hit Scrubs concluded in 2010 after nine years on the air, but ABC has just given the green light to a pilot that will star and be directed and executive-produced by Braff. Start Up is based on the podcast of the same name (because everything can be adapted into a movie or TV show), and will follow Braff's character Alex Schuman, who quits his job as a journalist to become an entrepreneur. As The Hollywood Reporter points out, the title of the series could change, since there's already a show with the same name streaming on Crackle (and it recently got renewed for a second season). But regardless of what it ends up being called, ABC's Start Up will reunite Braff with fellow Scrubs alum Matt Tarses, who will write the script.
The network also put in a pilot order for a comedy about a struggling rapper who runs for mayor of a city just to promote his mixtape, but then wins the election and tries to bring about positive change in local government. It's extra notable because Hamilton's Daveed Diggs will executive produce, but he is not, according to THR, expected to actually appear in the show.