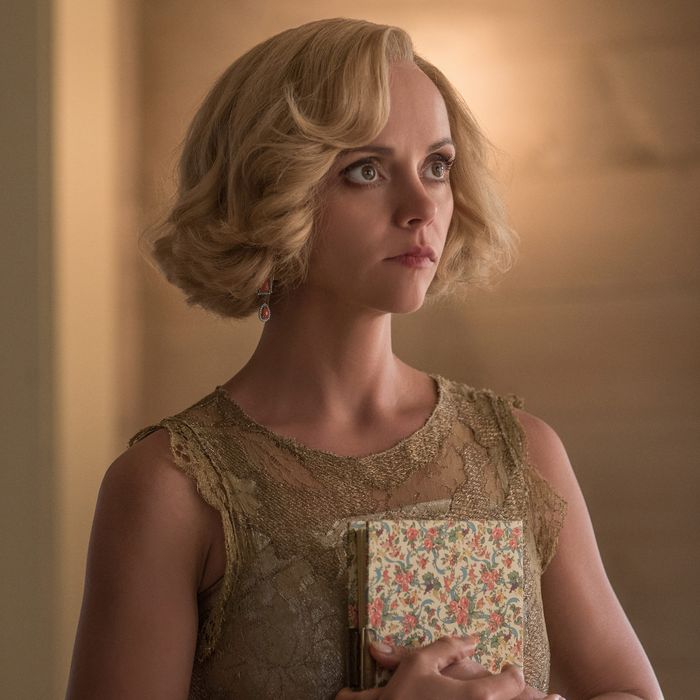 Christina Ricci as Zelda Fitzgerald.
Photo: Nicole Rivelli/Amazon
When Zelda Fitzgerald died in 1948, she left behind a legacy every bit as noteworthy as that of her husband, F. Scott Fitzgerald. She was an accomplished writer in her own right, a cultural icon who drank her way through the high society of the Jazz Age. Of course, it wasn't all Champagne and swing time: Professional resentment and Scott's philandering put a strain on their marriage, and Zelda spent her later years in and out of sanatoriums. Reduced to an "unstable woman" in the public eye, she died in a hospital fire at the age of 47.
Nearly seven decades later, Hollywood is caught up in full-blown Zeldamania. On Friday, Amazon debuted Z: The Beginning of Everything, a TV series that tracks Zelda's courtship and tumultuous early relationship with Scott. Not to be outdone, both Jennifer Lawrence and Scarlett Johansson have announced that they'll portray the literary icon in upcoming feature films. Below, Vulture compiled a timeline of these projects to prepare for the impending wave of Zeldamania. Enjoy it with a glass of bootlegged moonshine.
December 7, 2007
A script titled Zelda appears on the the Black List, officially marking it as one of Hollywood's hottest unproduced screenplays. Written by then-novice Hanna Weg (who's since sold the Adrien Brody–led indie Septembers of Shiraz and contributed to the animated adaptation of Kahlil Gibran's The Prophet), the script outlines "the true story of Jazz Age icons Zelda Fitzgerald (and her famous husband Scott), who lived large, soared high and crashed very hard." It appears on the Black List again in 2008.
September 23, 2008
The Hollywood Reporter suggests that Keira Knightley is "in discussions" — trade-paper code for "we're pretty sure, but might be wrong" — to take the role of Zelda in Weg's script, which has since been retitled The Beautiful and the Damned. Already attached to direct is Nick Cassavetes, the filmmaker responsible for The Notebook. THR also reports that the production hopes to get up and running in April 2009.
April 20, 2010
As The Beautiful and the Damned sits in a preproduction holding pattern, Knightley gets another iron in the fire with an adaptation of Scott's novel Tender Is the Night. The website Pajiba runs the exclusive that she and Matt Damon have been offered the lead roles as a couple watching their marriage fall apart in the south of France, widely understood to be an analogue to the crumbling Fitzgerald union.
May 20, 2011
Alison Pill briefly plays Zelda in Woody Allen's Midnight in Paris, sporting a frizzy bob wig and chatting as if the English language was all one big screwy game.
November 5, 2015
Amazon unveils six pilot episodes on the Prime video-streaming platform, leaving viewers to decide which are worthy for a full-season pickup. Alongside Tig Notaro's autobiographical black comedy One Mississippi and the short-lived '60s period piece Good Girls Revolt is the first episode of Z: The Beginning of Everything. Vanity Fair critic James Wolcott raves over the pilot, writing that "Ricci is superb as Zelda" and describing her performance as "playful and mercurial." He adds that the direction from veteran character actor Tim Blake Nelson is "suave."
December 18, 2015
Deadline reports that Amazon picked up five of those six pilots for series, including Z. The show's first official synopsis is released: "Starring Christina Ricci (Monster) as Zelda Sayre, Z: The Beginning of Everything starts before she meets the unpublished writer F. Scott Fitzgerald and moves through their passionate, turbulent love affair and their marriage — made in heaven, lived out in hell as the celebrity couple of their time. The series travels through the wild parties, the wicked jazz, the dissolute artists of the era, as well as the alcoholism, adultery and struggle with dashed dreams and mental illness that characterizes their later years." No release date is provided.
April 21, 2016
The insiders at the Tracking Board get wind that Scarlett Johansson signed on to star in The Beautiful and the Damned, replacing the long-since-departed Keira Knightley. Nick Cassavetes, too, is out of the picture. Millennium Films, a studio best known for spearheading the Expendables franchise, continues to shop around for a new director after ousting Cassavetes's replacement, John Curran.
June 10, 2016
The film Genius goes into wide release, chronicling the life and times of literary editor Maxwell Perkins, a guiding hand to the likes of Hemingway, Thomas Wolfe, and yes, Fitzgerald. Actress Vanessa Kirby makes a brief appearance as Zelda, never too far from her troubled husband's side. The film earns mixed reviews, and performs dismally at the box office.
October 21, 2016
THR gets the exclusive that Jennifer Lawrence will also play Zelda Fitzgerald in a well-pedigreed biopic, this one called Zelda. (Not to be confused with the screenplay formerly known as Zelda.) The story mentions that Ron Howard is developing the project along with Lawrence, and that he's "eyeing it as a potential directing vehicle." According to THR, the film will focus on Zelda's dogged efforts to define herself as a creative being independent of her husband as he achieved literary celebrity.
October 25, 2016
Four days after the Zelda news breaks, THR runs another story, this one bearing the spicier headline of "Scarlett Johansson, Jennifer Lawrence Plan Dueling Zelda Fitzgerald Films." Not to be outdone, Johansson and the Beautiful and the Damned team are reportedly pushing production onto the fast track, though they are reportedly "circling a handful of directors for the gig." At present, no director has been named. The story also introduces an intriguing wrinkle: Millennium Films has apparently collaborated with the Fitzgerald estate to integrate heretofore unforeseen transcripts from one of Zelda's many sanatoriums, in which she alleges that Scott passed off her ideas as his.
December 7, 2016
After nearly a year in scheduling purgatory, Z: The Beginning of Everything gets a release date in late January. Amazon also shares a trailer showing off the handsomely mounted period piece for the first time.
January 27, 2017
Z: The Beginning of Everything debuts on Amazon, officially setting off Zeldamania. The reviews are mixed to positive, with Vulture's own Jen Chaney writing, "[the show] tries to capture the many facets of this complex and conflicted woman, and does so with some success … But there's ultimately something too restrained about this ten-episode series. Z: The Beginning of Everything doesn't fully capture the energy or sense of unpredictability that swirled around [Zelda]."