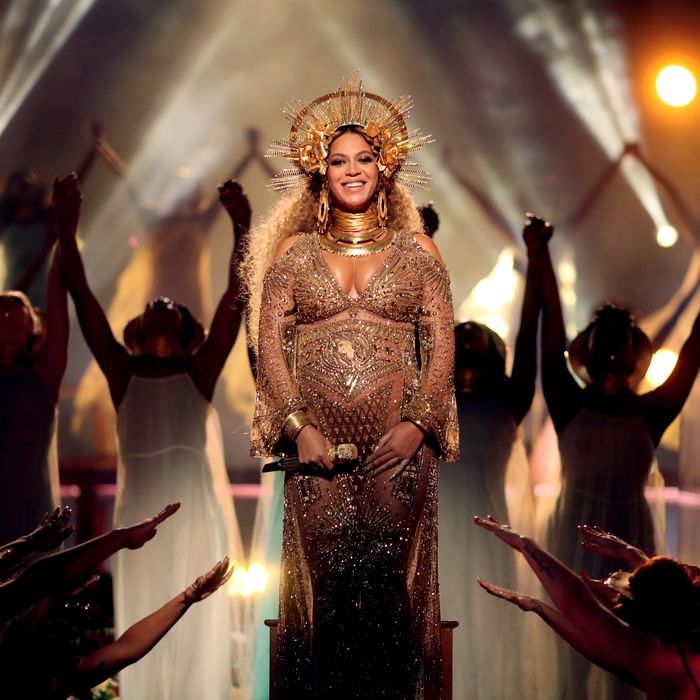 Photo: Christopher Polk/Getty Images for NARAS
The Grammys are large, they contain multitudes. One show, stretching across what seemed like an endless number of hours, brought us great joy — in the form of Beyoncé leaning backward in a chair and Bruno Mars strutting onstage in a purple suit — and more than a few letdowns, mixed with some genuine confusion. No awards show, especially one honoring music, should have as many technical difficulties as we (and James Hetfield) had to endure on Sunday night. And as much fun as James Corden is while he's carpooling with the stars, his "who, me?" schtick struggled to fill a room as big as Staples Center. Now that it's behind us, let's break down what worked, what didn't, and what was just baffling.
HIGH: David Bowie sweeping.
Over the course of his entire lifetime, Bowie won just a single Grammy for a music video (and not even "Ziggy Stardust"); tonight he won five posthumous awards, picking up his first-ever Grammy for recognition of his music and finally getting the sweep he'd so long been denied.
LOW: Our general boredom.
An hours-long awards show shouldn't be filled with a bunch of down-tempo performances, especially when they all seemed to fill up the first half. The Grammys have the most live-entertainment firepower available to them of all the awards shows. If they can't translate that into an engaging start-to-finish production, it's time to change some things.
RELATED LOW: Ed Sheeran's endless performance of his nondescript new single.
Case in point.
HIGH: Beyoncé hypnotizing everyone.
Words won't do justice to what Beyoncé did, so we submit:
Watch Beyonce's Performance
LOW: Lemonade only won two awards.
Adding insult to injury, Beyoncé lost to Ron Howard's Beatles documentary for Best Music Film. Dark times, indeed.
Watch Beyonce's Speech
WHOA: Adele dedicating her Album of the Year win to Beyoncé. Because when Kanye's M.I.A., someone's gotta do the honors.
HIGH: Blue Ivy everything.
Blue Ivy stopped by your little awards show to cheer on her mom. In between entertaining an audience with Nick Jonas and salvaging James Corden's "Sweet Caroline" bit, the eldest Carter progeny reminded us that she was Destiny's original Child.
HIGH: Wondering, briefly, if Corden getting stuck wasn't a gag.
In retrospect, Corden's bumbled-monologue bit foreshadowed a night full of technical difficulties and flubs. But when the show started, the possibility of Corden's adorable ineptitude being genuine felt like a welcome breath of a reality.
Watch
WHOA: Corden's Carpool Karaoke segment.
We knew no Corden-hosted event would be complete without a segment paying homage to The Late Late Show host's most popular bit, but we didn't expect the only reference to Carpool Karaoke to be so haphazard and disappointing. After wheeling his cardboard cutout of a car down the aisles of the Staples Center, Corden halfheartedly invited everyone from Jennifer Lopez to Faith Hill to join him in singing "Sweet Caroline." And it may have worked, if anyone in the group other than Corden and Neil Diamond himself knew the lyrics.
LOW: The AV Team.
The tech team inadvertently neutered one of the show's fiirst high-energy performances by having a non-working microphone for James Hetfield during Metallica's collabo with Lady Gaga. "Enter Soundman," more like.
HIGH: Rihanna's flask won for best flask.
Rihanna, apparently the smartest attendee, brought a glittery flask. These awards shows tend to go long, and Ri came prepared. We're guessing she removed the cap the moment she saw Corden fake-fall down a flight of stairs.
LOW: Lukas Graham and Kelsea Ballerini's performance.
Who feat. WHO? Did you know (we didn't) that Lukas Graham isn't the name of a person, but rather the name of a band? They sang the hit "7 years," possibly referencing the length of Ed Sheeran's performance.
Okay, now time for all of us to Google "Kelsea."

HIGH: A Tribe Called Quest's message to resist.
You can channel Hillary Clinton and shout boilerplate messages of peace, or you can call the president "agent orange" and raise the black power fist in a rallying cry for resistance. A Tribe Called Quest and Anderson Paak went with the latter for their Grammy performance and it paid off: It was the rare moment from tonight's marathon you'll still remember tomorrow morning.
LOW: Pentatonix.
After winning a Grammy for Best Country Duo/Group Performance (sure) for their cover of "Jolene" with Dolly Parton, the a cappella group came on late in the night to perform a tribute to the Jackson 5. At some point, you just have to draw the line.
WHOA: Adele re-starting her George Michael tribute.
The last time Adele graced the Grammys with her presence, they dropped a guitar on a piano mid-performance and spoiled her whole night. She came back this year for redemption and wound up self-sabotaging her own tribute to George Michael. Suffering from a case of the feels, Adele got choked up, started off in the wrong key, and in a move that violates every Grammy code, said sod it (except she actually cursed), and demanded a do-over. Tears and all.
Naturally, she then killed it.
Watch It Happen
HIGH: Chance the Rapper's wins.
The Grammys as an awards show may be antiquated (there's a reason you dozed off during anything not Beyoncé), but in some ways, its awards are catching up. Adele is still the Grammy queen, but Chance the Rapper — the first artist to ever be nominated for a streaming-only album — pulling off the upset to win Best Rap Album over Drake is a sign the Grammys are listening. (He also rightfully won Best New Artist.) This may be the first and only year SoundCloud gets a shout-out on the Grammys stage, but Chance will be immortalized as the vanguard.
WHOA: Katy Perry's baffling red-carpet interview.
Katy Perry, clad in a disastrous Tom Ford medley, told Ryan Seacrest about how her new single "Chained to the Rhythm" has "layers" and uttered an expletive far too strong for E!'s censors. New, woke Katy's a real adventure, everybody.
HIGH: Bruno Mars's eyeliner. I mean ….
LOW: All the commercials for Carly Rae Jepsen's commercial. This is not the place to discuss the merits of Carly and Lil Yachty's "It Takes Two" Target commercial — whatever, it was fun! This is the place where we complain about all the commercials for that commercial that aired throughout the first few hours of the show. We were one-shot-of-red-shopping-cart away from losing it.
LOW: Leaving Cynthia Erivo and The Color Purple's win out of the televised ceremony.
Of course the Grammys put Hamilton on full display last year, but oddly didn't have time for musical theater this time around. And why'd we get so little of Erivo and John Legend as they performed their in memoriam tribute? We demand an Erivo-Legend movie musical in compensation for such a slight.
WHOA: John Travolta can't see.
Apparently "going clear" has no effect on eyesight. Travolta couldn't read the teleprompter, so he whipped out some index cards instead. But it really makes you wonder, why doesn't he have glasses? Is he just worried about looking like a nerd? It's cool, Travolta, you couldn't look like a nerd if you tried. (Actually, the necklace things were a bit much.)
LOW: 21 Pilots took off their pants.
After winning Pop Duo or Group Performance, the group stripped down to their boxer briefs. They had a vaguely endearing story about how they were honoring their memories of watching the Grammys in their underwear. But really, some memories are best kept under wraps.
Now Watch: The Most Awkward Moments from the 2017 Grammys