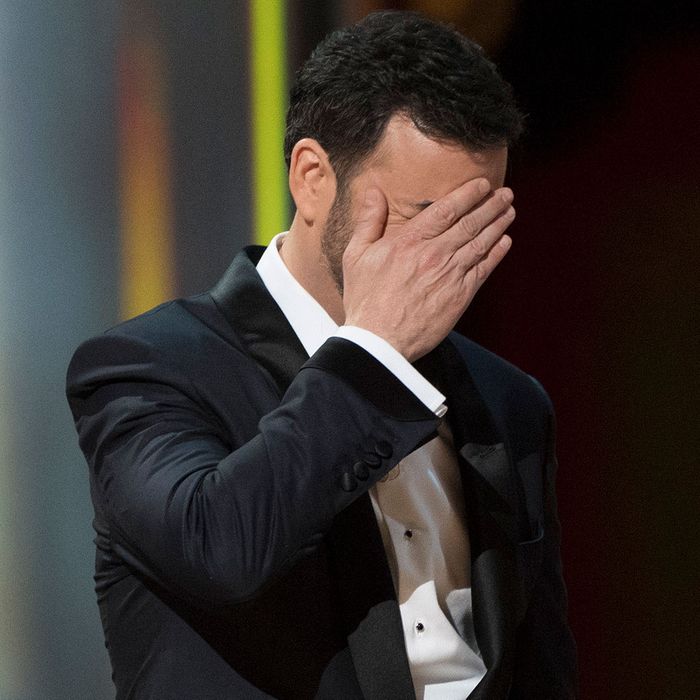 Sorry, Jimmy.
Photo: Eddy Chen/ABC
A twist ending wasn't enough to rescue the ratings for Sunday's Oscars from the forces of gravity. Per Nielsen, the Jimmy Kimmel–hosted, three-and-a-half-hour telecast drew a same-day audience of 32.9 million viewers, making it the second least-watched Oscars in TV history. (Only 2008's show, hosted by Jon Stewart, generated smaller tune-in, averaging 32 million viewers). The good news for ABC: After two years of sharp declines, this year's ceremony dipped a mere 4 percent versus last year (34.4 million), despite a paucity of big blockbusters among the Best Picture nominees. What's more, linear TV ratings in general have been suffering severely as audiences shift away from same-day viewing.
While the Academy Awards aren't nearly as big as they were even a decade ago, almost nothing on TV is. For example, back in 2008, the Oscars actually drew a smaller audience of adults under 50 than that week's episode of American Idol, at the time TV's No. 1 series. By contrast, Sunday's Oscar cast will very likely end up with a same-day demo rating nearly twice that of the medium's current top-rated series, AMC's The Walking Dead. Bottom line: This wasn't a particularly great year for the Oscars ratings, but it was nowhere near a disaster, either.