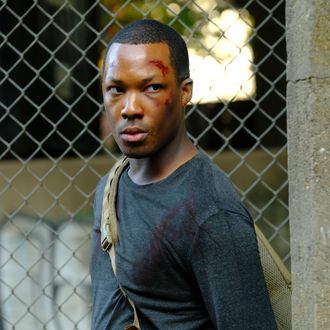 Corey Hawkins in 24: Legacy.
Photo: FOX
After the end of the Super Bowl last night, Fox's 24 spinoff 24: Legacy made its premiere, kicking off with a home-invasion scene led by a group of Muslim terrorists. While in keeping with the show's history of drawing from American anxieties over the War on Terror, the scene seemed destined to make viewers fear Muslim terrorists again, as Vulture's Gazelle Emami pointed out, which seemed to be especially poor timing in light of President Trump's ban on immigration from majority-Muslim countries and continued anti-Muslim rhetoric. According to the show's executive producers and showrunners Manny Coto and Evan Katz, who spoke to The Hollywood Reporter about the scene, that was intentional — and they say the show plans to eventually subvert that first impression. "The story of this season deliberately starts on an image that you might call jingoistic, expected, and possibly inflammatory," Coto said. "We weren't trying to be inflammatory, but it's what the story itself called for."
Previously, the showrunners had said that 24: Legacy is "prescient" about the Trump era, though they insist that it's not written from the perspective the president might take. "I like to say the series begins as if it was written by Trump," Coto added, "but it ends as if it were written by Hillary [Clinton]. It's not going where you think it's going." If 24:Legacy's ending feels like it was written by Hillary, we're going to assume it takes place in the Chappaqua woods.