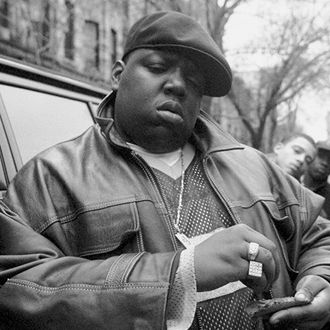 Photo: Clarence Davis/NY Daily News via Getty Images
Earlier today it was announced that Faith Evans will be releasing a duets album called The King & I, in which she will posthumously collaborate with her ex-husband, the Notorious B.I.G. CNN, however, didn't have its musical Faiths straightened out this morning when they tweeted out that Faith Hill would be releasing a duets album with Biggie, prompting the country star — and longtime wife of Tim McGraw — to tweet out, "This sounds awesome!" in response to the "news." But now that the idea has been incepted, why not consider a Hill-Smalls mash-up album? If the world was gifted with a country–hip-hop collab project, here are nine songs we humbly suggest would be on it.
"I Don't Know Who Shot Ya, But I Will"
This one requires some rejiggering, since the spirit of these two songs is very different. In the context of Biggie's diss track to Tupac, though, maybe Hill singing "Remember when I said the next time would be the last time? That time came this morning when you came in" could sound more threatening than longing, and having Biggie rap "slaughter, electrical tape around your daughter" suddenly gets even more frightening.
"Mississippi Girl Going Back to Cali"
Just a little ditty about two big stars a long way from home.
"This Kiss Is Unbelievable"
For B.I.G.'s part, this track is about how superior he is to everyone else, while Faith obsessed over the peerless kiss from her paramour. So the mash-up would be something like a call and response. Faith enumerates all the ways in which This Kiss is "unstoppable," "critical," "criminal," and so forth, and he answers back "Biggie Smalls is the illest."
"You Can't Lose Me, Big Poppa"
An unlikely love song in which Faith promises Biggie she'll always be "just a wish away" for whenever he wants to watch a movie in the Jacuzzi, smoking Ls while she has sex with him.
"The Way You Love Me Is Juicy"
If you were going to mash up Faith and Biggie, the pace of these two songs isn't wildly different. Just imagine Hill singing "Someday I'll find a way to show you just how lucky I am to know you," then Biggie drops in with "And if you don't know, now you know."
"Trying to Breathe With Me and My Bitch"
"All my thoughts just seem to settle on the breeze when I'm lying wrapped up in your arms" is basically the same sentiment as "When I met you I admit my first thoughts was to trick / You looked so good I'd suck on your daddy's dick," right?
"A Baby Changes Everything in This Everyday Struggle"
This one could actually make a lot of sense! You've got Big rapping "I know how it feel to wake up fucked up, pockets broke as hell / another rock to sell," narrating the experience of trying to make a life for his soon-to-be-born child. Then at the same time you have Faith singing about the woman's experience: "Much too young, unprepared for what's to come / A baby changes everything." It's just two sides of the same coin.
"Hypnotize Me With That Sunshine & Summertime"
This is Faith Hill doing the country version of listing her assets with swagger. "We've got barefoot ladies and tricked out Mercedes, and people getting crazy on the boulevard / We've got classic colas and ice cold Coronas, and big pool parties in the backyard." Meanwhile, Biggie says, "I put hoes in NY onto DKNY / Miami, D.C. prefer Versace / All Philly hoes dough and Moschino / Every cutie with a bootie want a Coogie." Ultimately, both songs are about how to make friends no matter where you are!
"Ready to Die, Because I'm a Wild One"
Faith Hill, singing about a "woman child in a state of grace" who doesn't want to brush her hair and loves rock and roll, is for sure the spiritual companion to Biggie as he raps "My mother didn't give me what I want / What the fuck? / Now I've got a Glock making motherfuckers duck." Parents are a drag no matter where you're from, am I right?