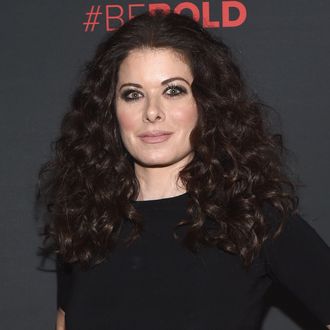 Debra Messing.
Photo: Emma McIntyre/Getty Images for AOL
Accounts of sexism in Hollywood are as plentiful as they are unsurprising, but the source of Debra Messing's unease gets extra notice for the sheer impatience of his attack. Messing was at this week's MAKERS conference, swapping war stories with fellow women in Hollywood, when she recalled her treatment at the hands of director Alfonso Arau on the set of 1995's A Walk in the Clouds. The movie was Messing's first, and for it she had to film a love scene with Keanu Reeves. As Messing explains it, the already-uncomfortable situation soon got much, much worse when Arau interrupted filming to harangue Messing over her appearance. "We started filming and the very famous director screamed 'Cut' and said, 'How quickly can we get a plastic surgeon in here? Her nose is ruining my movie,'" Messing shared. She went on to recall the "shock" of the incident, saying, "I'd studied in London and I was so well-equipped with skill sets, and then to walk on set and have that happen — I was reduced to an un-Hollywood nose."
And Arau's verbal vitriol was not his sole sexist offense. He also pressured Messing to agree on-the-spot to an unplanned nude scene. Per Messing, Arau looked at her underneath the sheet that covered her naked body, "dropped the sheet on top of me like a used Kleenex, then walked away without a word," a move Messing describes as a "power play" intended to "demean me, strip me of my pride, my power." Ain't show business grand?