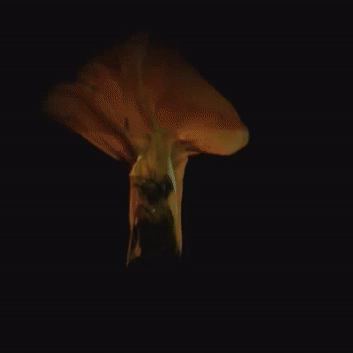 Tonight at the Grammys, Beyoncé took to the stage to prove that everything she touches is gold — literally. Clad in head-to-toe gold (okay, not as much gold as CeeLo) and showing off her shimmering baby bump, Beyoncé performed "Love Drought" and "Sandcastles." Here's a handy GIF bible to carry around with you this week, because when there are no words, there are Beyonce GIFs.
If only all waves at sporting events looked like this:
Bow down to the queen:

The greatest look anyone has ever looked:

What can only be described as pure magic:

That feeling when you're pregnant, but also Beyoncé.

When you don't know what your ghost children are up to:

They definitely didn't bow enough the first time, so she'll do it again:
Is Beyoncé's womb also lined with gold?
There's no way to know how this was done:

Yellow scarves are about to be so in:

If you look closely, you can see the Daft Punk robots:

Great use of gold here, much more majestic than CeeLo:

Behold, Beyoncé's future presidential-campaign GIF: