"There was relief when my wife told me that I hadn't been nominated," says Aaron Taylor-Johnson on the day after the Academy Award nominations were announced. This, of course, is not normally the sentiment you'd expect from a performer who's been passed over, especially one coming off a major awards win. But the English actor, who's married to Fifty Shades of Grey director Sam Taylor-Johnson, already received a Best Supporting Actor Golden Globe for his unsettling turn as a sadistic West Texas drifter in Tom Ford's Nocturnal Animals, and you may remember his earnest reaction: Wide-eyed and shaking his head in disbelief as he walked to the stage, Taylor-Johnson looked as surprised as everyone else that he'd won over the favorite, Moonlight's Mahershala Ali. Now, after having been overlooked by the Academy — which honored his co-star Michael Shannon with a Best Supporting Actor nomination — he can relax and sit out this last stretch of the famously frenetic awards-season schedule. "Coming home from the Globes with an award was brilliant, but I've been promoting Nocturnal for six months," he says. "As an actor, you prefer to put that kind of energy into something creative. It was good to finally step off the train. You do kind of go, I'm losing my mind."
Taylor-Johnson is still getting over the fact that he's being considered for award-worthy roles, let alone winning awards for them. Prior to Nocturnal Animals, he was best known for 2010's satirical superhero film Kick-Ass and 2014's Godzilla reboot. "Whenever I read a script," he says sheepishly, "I start recasting the role that I might play. I'm like, 'God, this should be played by Domhnall Gleeson, not me.' I was reading something recently and thought Mark Rylance should be in it instead of me. Then someone was like, 'The part is a bit younger than Mark Rylance.' "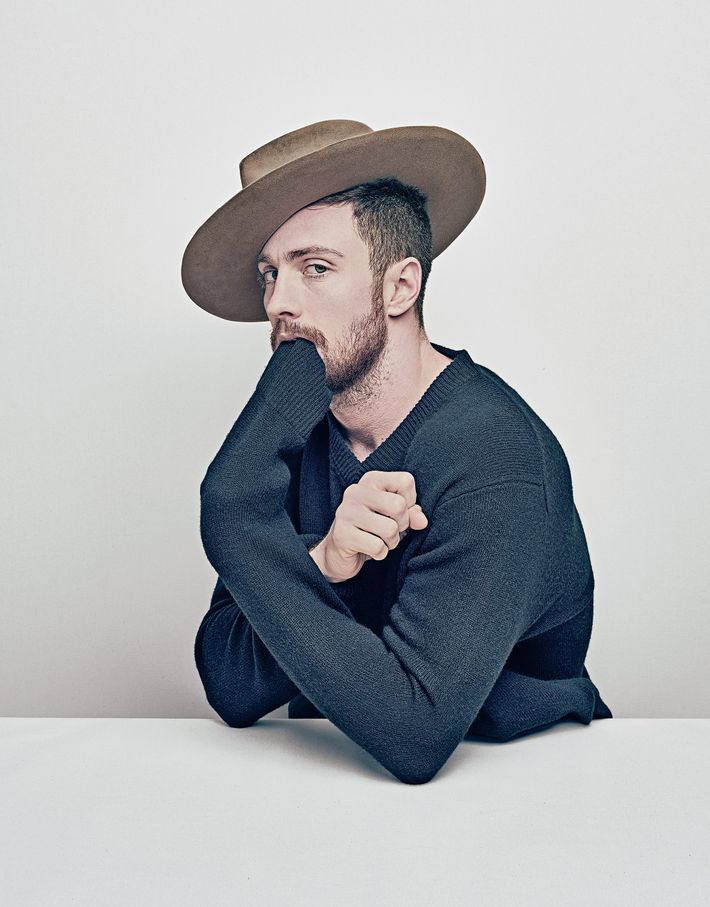 He was just as uncertain about playing Nocturnal Animals' Ray Marcus, a character darker and uglier — in body and spirit — than any he'd tackled before. Indeed, upon hearing that Ford wanted to cast him as the film's unhinged figure of evil, Taylor-Johnson remembers feeling "slightly perplexed." At one point, he even approached his director and said, "I don't think I can give you what you need; I'm not good at it." Thankfully, he says now, "Tom saw something in me."
Over email, Ford shared that he was initially hesitant about casting Taylor­Johnson out of fear of screwing with their friendship. "I've known his wife for over 20 years and I see them socially," he explained. But then, "we were having dinner one night, and Aaron was acting out a story — he just switched into something, and there was a moment, a glimmer, and I thought, You could totally be Ray."
To help embody Marcus, Taylor-­Johnson immersed himself in research about serial killers and consumed an ungodly amount of cigarettes and beer. "I wanted to feel toxic from the inside out," he says. "My wife is very loving and supportive — but it was definitely great when I finished the shoot." In preparation for his next role, as an Iraq War sniper in Doug Liman's The Wall, due out in March, Taylor-Johnson contacted American Sniper star Bradley Cooper, who put him in touch with former military sharpshooters.
A big reason why he's been happy to jump off the awards-season promotional train is that Taylor-Johnson, at only 26, has experienced more than his share of difficulties with the press, mainly having to do with regularly being asked to explain the 23-year age gap between him and his wife. (A question that likely would never come up if their genders were reversed.) The couple met when she directed Taylor-­Johnson — they combined last names when they married in 2013 — as a young John Lennon in 2009's Nowhere Boy. "The attention was intrusive," he says. "But having to deal with that early in my career probably got me to a place where I can more quickly just go, 'Oh, fuck it' instead of wanting to rip someone's head off for asking questions I don't like." Still, "I'll never be Jennifer Lawrence or Tom Cruise," he admits, "someone who can hold a movie and then be charming and charismatic doing promotion. I haven't got what they've got. But at least I'm now comfortable just being myself."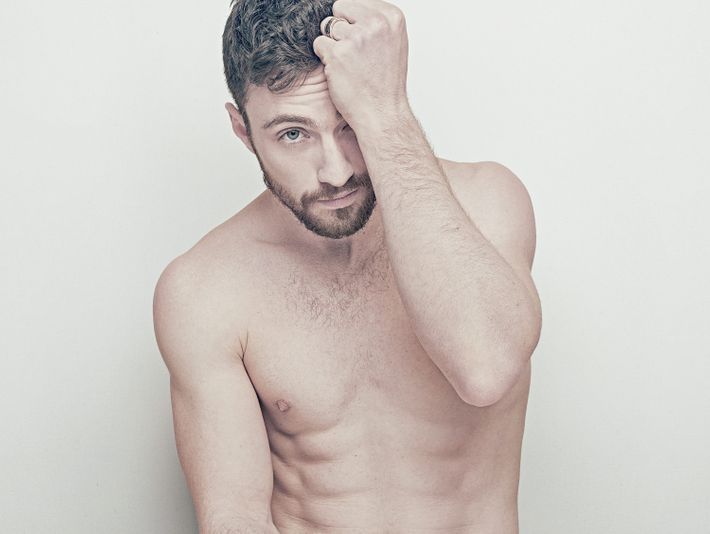 Taylor-Johnson doesn't have a next project lined up yet — he only does one film a year so that he can spend the rest of his time with his wife and their four daughters, two of whom are from her previous marriage. But he's already felt his stock rise post-Globes. "The experience is all still very fresh," he says. "But there's definitely a feeling of 'Strike when the iron's hot.' I know it'll blow over eventually, but there's been more meeting people from studios. It's an interesting position to be in where you're suddenly getting considered for projects." And as for how he wants to spend the industry capital he's accrued? "I want to work with great directors. I've picked films based on the script or the character and seen them collapse because the directors were not strong visionaries."
Surely, as a human being, let alone a Hollywood actor, Taylor-Johnson must've felt a twinge of envy, too, seeing his castmate Shannon get an Oscar nomination. Or even felt a tiny sense of competition as they both made the awards-season-circuit rounds? "Quite honestly," he says, "and maybe this is because it's the first time I've been involved in this process and didn't know anything, I didn't have any of that. I didn't feel like, Oh, my PR team and his PR team are rivals. Who can get the best press? Who can get the best gossip about what the critics are really thinking? And Michael's been a gentleman. He's only ever congratulated me on my success."
Taylor-Johnson does cop to one reason why he's covetous of more trophy opportunities. "An Academy Award is still something to work toward," he says. "It would've felt a tad greedy to get a nom from them this time around." Then again, the award he's already got will have some lasting benefits. "You know when you see trailers," he says, "and it'll say 'Golden Globe winner' and then the actor's name? That's awesome. It's like a stamp that says THIS IS A FILM WITH A REAL ACTOR."
*This article appears in the February 6, 2017, issue of New York Magazine.