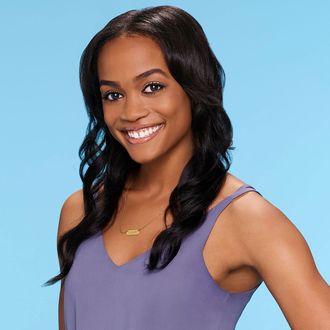 Rachel Lindsay.
Photo: Mitch Haaseth/ABC
The Bachelor universe has a well-documented diversity problem, but ABC is at last taking strides toward more inclusivity in casting. An industry insider familiar with the situation confirmed to Vulture that ABC has cast current Bachelor contestant Rachel Lindsay as the next Bachelorette and that the official announcement will come during tonight's Jimmy Kimmel Live! The news was originally reported by Reality Steve, who also pointed out that Bachelor showrunner Mike Fleiss has been not so subtly hinting at a potentially "historic" announcement on Jimmy Kimmel Live! tonight.
While the news of Lindsay's casting is exciting from a diversity perspective — people affiliated with the show have long dodged the question of if or when they would finally cast a person of color as either the Bachelor or Bachelorette — it's also surprising timing, as Lindsay, a 31-year-old lawyer from Texas, has not yet been eliminated from the show and is considered to be one of the front-runners for Bachelor Nick's heart. The industry insider suggested that ABC made the decision to announce her casting before The Bachelor finishes airing in an attempt to get out ahead of the sites that work to spoil the show — so basically, ABC just spoiled The Bachelor in order to get out ahead of Bachelorette casting spoilers.
Update: Watch Chris Harrison make the official announcement of Lindsay as the next Bachelorette on Jimmy Kimmel Live! below.