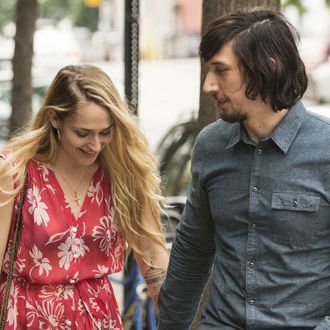 Photo: Craig Blankenhorn/HBO
For the first three seasons of Girls, it might have seemed like Hannah and Adam were meant to be — their on-again, off-again relationship, grand romantic gestures, and terrible timing, which could perhaps get sorted out as they matured. Starting in season four, though, we began to see serious chemistry between Jessa and Adam, which culminated in a kiss, mutual masturbation, and, finally, a relationship in season five. Come season six, you might be wondering, was this the game plan all along? When Vulture ran into executive producers Lena Dunham and Jenni Konner at the season-six premiere in New York, we asked how they came up with the idea to pair off Jessa and Adam. As it turns out, it's been a long time coming.
"The first time we saw [Jemima Kirke and Adam Driver] act together, we realized, These two weirdos need to spend time together and bang bits," Dunham explained. The idea wasn't an easy sell, though. Even though they thought Jessa and Adam were a natural pair, they had to figure out how the fallout between Hannah and Jessa would play out first. "I thought for a long time that it seemed pretty inevitable that two people with that kind of explosive energy would be drawn to each other," Konner said. "And I worried about what it would do to Jessa and Hannah's friendship, so I fought it for a long time."
Konner finally gave in, perhaps convinced by Dunham's argument that the Jessa-Adam connection was "much more correct" than that Hannah-Adam energy. The two are far more compatible, and when they fight, it's not borne out of fundamentally misunderstanding the other, as Hannah and Adam's arguments often were. Still, even though Dunham was on board with making the two characters a couple, she felt a twinge of Hannah's loss when she would shoot them together. "I can't say that the first day I ever directed them making out that it wasn't difficult," she said.
"You were a little jealous," Konner pointed out.
"I was like, 'I'm not mad at you guys, but I'm kind of mad at you guys,'" Dunham recalled, laughing.