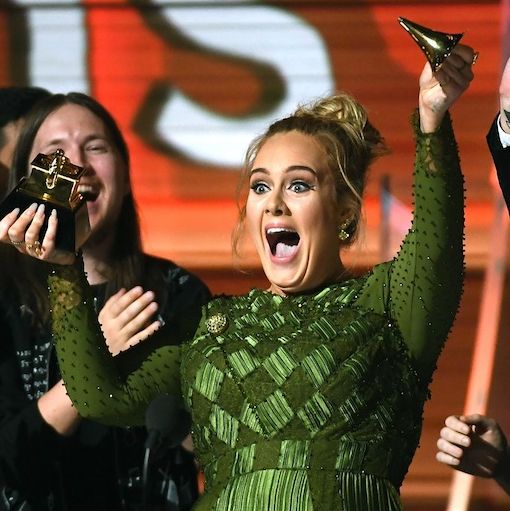 The new version of the "best friends" necklace.
Photo: Kevork Djansezian / Stringer/Getty Images Entertainment
Adele made it pretty clear that winning the award for Album of the Year at the Grammys didn't necessarily sit well with her, because for Adele, Lemonade was the obvious winner. And though the "Hello" singer spent much of her speech thanking Beyoncé (and asking her to be her mommy), she went into even more detail backstage: "I thought it was her year. What the fuck does she have to do to win Album of the Year," Adele said. She then told the story of how she first fell in love with Beyoncé:

"I am a Beyoncé fan. I remember when I was 11 years old, I was with some girlfriends, and we were practicing a song to do at an assembly. I probably suggested the Spice Girls, and they said have you heard (Destiny's Child's) 'No No No'? And I was like, 'no, no, no.' I remember how I felt hearing her voice. I fell in love immediately with her. The way I felt when I first heard 'No No No' was exactly the same as when I first heard Lemonade last year. … The other artists who mean that much to me are all dead."
Adele then broke her Grammy in half, seemingly to give the other half to Beyoncé. What we wouldn't give to see that being gifted. Who's going to cry first?

Additional reporting by Lisa Butterworth.