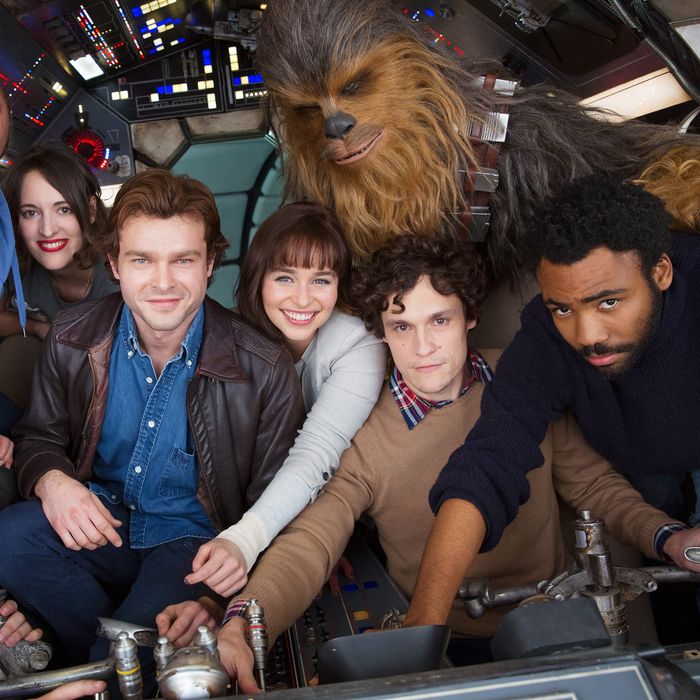 So many teethy smiles.
Photo: Jonathan Olley/Lucasfilm
Today, Disney released a first look at what Donald Glover is doing instead of working on Atlanta's second season. Yes, here is the first photo of the new Star Wars Han Solo movie's cast, including Alden Ehrenreich, Donald Glover, Emilia Clarke, Woody Harrelson, Phoebe Waller-Bridge, Chewbacca, and directors Phil Lord and Christopher Miller. Does it tell us anything about this movie, which will act as some sort of prequel to the events of A New Hope? Not really! But let's try to read between the lines.
Moving from left to right we have:
Woody Harrelson, who's playing Han Solo's mentor: Could Harrelson be playing Solo's Fagin-like adoptive father Garris Shrike, as many have speculated? Possibly, but let's focus on the fact that he's wearing a hoodie in this photo. Hoodie rhymes with Woody, which rhymes with … ? It's obvious! Woody's playing a Wookiee.
Director Christopher Miller in one of the Millennium Falcon's pilot seats. In the films, Han sits to the audience's right, while Chewie is to the left. Is Disney sending a message about Lord and Miller's working dynamic? Also, where do I get that jacket? It looks nice.
Phoebe Waller-Bridge, who's playing some sort of CGI character: Rumors abound about the sort of character Waller-Bridge might play in the Star Wars universe — possibly even the franchise's first major female droid. Of course, we won't see her face onscreen, but let's examine that Fleabag shade of lipstick. Fleabag's on Amazon Prime. Amazons were legendary female warriors. Waller-Bridge's character is going to be a female battle droid. Confirmed!
Alden Ehrenreich doing his best to make his perfectly symmetrical face look as interesting as Harrison Ford's. Notice how long his hair is. Yeah, it's true — you're going to be distracted by it for the whole movie. (Unless this is a ruse and Ehrenreich's gone all The Americans on us with a wig.)
Mother of Dragons Emilia Clarke, who's playing an unknown character. Notice how her hand hovers just above Alden's, in a gesture, perhaps, of intimacy? Clearly, Clarke is playing a Sarlacc.
Joonas Suotamo as Chewbacca: [grunting noises]
Director Phil Lord, giving us major Seth Cohen vibes: California, Californiaa …… Sorry, what was this post about?
Donald Glover, who's playing Lando Calrissian: Okay this is a pretty great look, but dude, where is your coat?
Thandie Newton, not pictured: Newton is also in the cast of the Han Solo movie in an unspecified role. The fact that she does not appear in this photo implies she just wasn't around that day (probably) or they're keeping everything about her character very, very secret, because she hinges on a big, dramatic twist and that big, dramatic twist is that Westworld is in the Star Wars universe!
The Star Wars Han Solo movie officially began production yesterday at Pinewood Studios in London. It was written by Lawrence and Jon Kasdan. Please do not return to this post once the movie is out and make fun of our predictions for being woefully wrong.