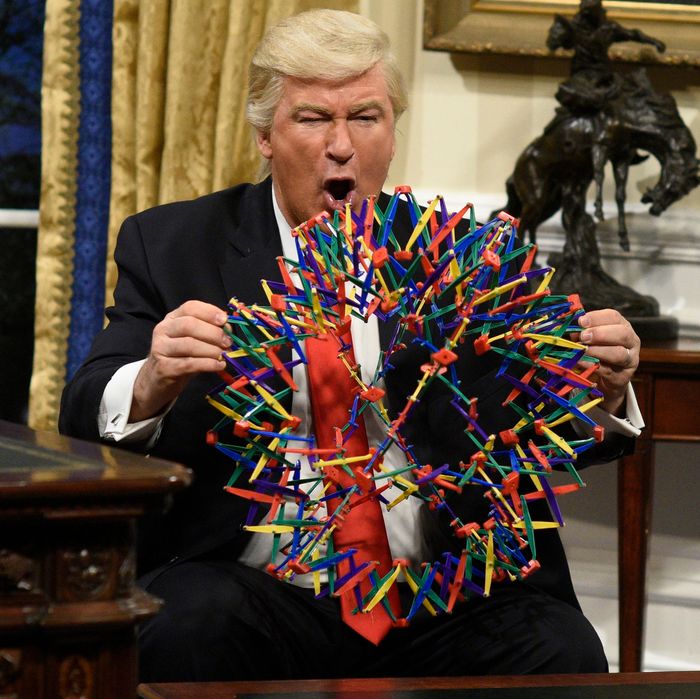 Alec Baldwin as Donald Trump.
Photo: Will Heath/NBC
When Alec Baldwin hosts Saturday Night Live for the 17th time this weekend, he'll cement his role as the show's most celebrated guest. Nobody has hosted SNL as often — his earliest appearances are older than Pete Davidson! — and since filling the role of Donald Trump last year, he's essentially been an unofficial cast member.
Below, Vulture counts down Alec Baldwin's ten greatest SNL sketches. It's hard to narrow the list down to a mere ten, of course, so honorable mentions go out to sketches like Monsieur Nobek Teaches Francais, as well as commercial parodies for Valtrex and Tylenol BM. If you're looking for the best of Baldwin's best, these are the ones to watch.
10. The Tony Bennett Show (2006)
While Baldwin's recurring Tony Bennett impression is a layup for the actor, it's always a special treat when SNL impressionists meet their muses, live on air. Watching Bennett interact with his impersonator gets even more meta, as the singer plays "Phony Bennett," a Tony Bennett parody act. The best part is obviously when Baldwin has Bennett turn to a camera to advertise his toenail fungus medication. Bennett just cracks up while Baldwin, of course, stays in character. And it all ends with a song, because of course it does.
9. The SNL Platinum Lounge (2006)
Forget the Five-Timer's Club. The truly exclusive group of SNL hosts have done it 12 times or more, as we see in this sketch from one of Baldwin's mid-aughts appearances. The beauty of this sketch is the five minutes of hilarious back and forth between Baldwin and Steve Martin, long before It's Complicated came along to spoil the idea of such a great pairing. The icing on top? Martin Short and Sir Paul McCartney make cameos, which is exactly the kind of bonus you can count on when Baldwin hosts.
8. Glengarry Christmas: Elf Motivation (2005)
A holiday sketch that doesn't tire, this one is a line-for-line parody of Baldwin's iconic scene in Glengarry Glen Ross. Just swap in Santa's helpers for the early '90s real-estate salesmen and replace "coffee" and "closing" with "cocoa" and "cobblers," and you've got an SNL classic. Baldwin is so good at his spirited monologue that he actually flubs the "Always Be Cobbling" joke by saying the actual line, presumably as a force of habit. Plus, Seth Meyers in an elf costume.
7. The Joe Pesci Show: Robert De Niro, Mel Gibson, Danny Glover, and Brad Pitt (1996)
Although Baldwin didn't appear until the second installment of The Joe Pesci Show, it's the most memorable and set the tone for the sketches that followed. This is the height of Baldwin's Robert De Niro impression, in the sense that he barely has to say or do anything to embody him. It's the perfect match for Jim Breuer's spot-on Joe Pesci voice, and came at the perfect time, with Casino having come out a year earlier. Perhaps Baldwin will pick up his De Niro this weekend, since the actor has been so vocal about wanting to punch Trump in the face.
6. Soap Opera Digest (1993)
Baldwin has said that the soap-opera sketches are his personal favorites, and none beat this one, where he plays a TV doctor who mispronounces words. ("Cancer" becomes "canker," "colon" is "cologne.") As he races back and forth from desk bits with Julia Sweeney to the soap-opera reenactments, the simple mispronunciations and over-acting get progressively more hilarious. There's nothing quite like when the camera pans to the icy-cold stares between Baldwin and the late Phil Hartman's character. Imagine the kind of stuff they could be doing together today.
5. Brasky's Buddies at an Airport Bar (1996)
Baldwin had a knack for sketches that became recurring classics, and the original "Bill Brasky" bit is one of SNL's most beloved. Baldwin fits right in with Will Ferrell, David Koechner, Mark McKinney, and Tim Meadows as cigar-chomping, big-toothed salesmen with a penchant for hyperbole and huge glasses of Scotch. The heightening in these sketches is funniest when it leads to a quiet, uncomfortable (and usually homoerotic) place, and it definitely helps when Baldwin is involved. To Bill Brasky!
4. Donald Trump Oval Office Cold Open (2017)
This list wouldn't be complete without Baldwin's Trump impression. It's hard to pick a favorite, if only because the Trump sketches range from the debates all the way to the White House, but this latest installment hit especially well. It got under the president's skin, perhaps even more than Baldwin's initial portrayal, or the postelection one that led Trump to complain about "equal time" on Twitter. The key of this particular sketch is its simplicity: A childlike Trump is lorded over by Steve Bannon (a.k.a., new cast member Mikey Day in a grim reaper costume), who goads him into haphazardly picking fights with world leaders. There's no denying that SNL has a complicated history with Trump, but Baldwin's impression has become an indispensable tool in speaking truth to power.
3. Canteen Boy Goes Camping (1994)
While this sketch might not fly if it aired today, it's still a classic. It not only became an early hit for Adam Sandler, who would later use the Canteen Boy character for The Waterboy, but it really highlighted Baldwin's ability to play it serious, even while gently nuzzling Sandler's neck and exposing his hairy chest. Side note: Anyone else miss these sketches that started with comically long prologues?
2. Brenda the Waitress (1990)
In a sketch that feels more like a one-act play, young Alec Baldwin is a perfect match for the late Jan Hooks. It's so beautifully simple: A diner waitress is talking to two dopey regulars (Kevin Nealon and Phil Hartman) and a co-worker (Nora Dunn) when in walks Baldwin, a guy "sittin' on that stool like he's doing it a favor." The two go tit for tat with intense dialogue and innuendo, each trying to one-up the other without breaking. Kudos to Dunn for being able to stand right there and not react.
1. Schweddy Balls (1998)
How many other SNL sketches inspired their own flavor of Ben & Jerry's ice cream? It may surprise you to learn that eight Delicious Dish sketches aired before Alec Baldwin joined in for this all-timer. Molly Shannon and Ana Gasteyer had already perfected the NPR voice that carries the sketch, so it only took Baldwin saying one word to put the audience in an uproar: "Balls." The sketch is laugh line after laugh line, while Baldwin doesn't even break a smile. There's a reason why people watch this one every holiday season. Among his decades of SNL dominance, this is undoubtedly Baldwin's funniest sketch.