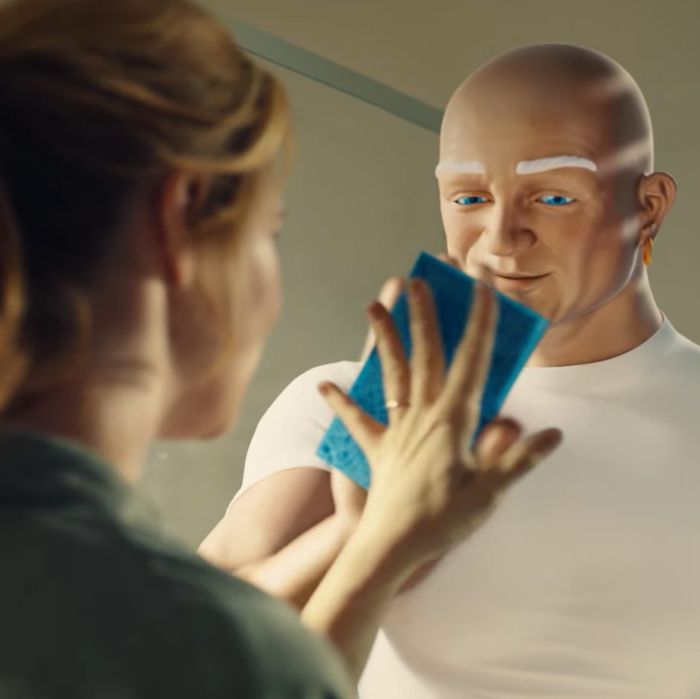 Sure, the primary reason to tune into Super Bowl LI this Sunday might be to watch the Atlanta Falcons face off against the New England Patriots, but for the small collection of people who don't know anything about sports, the real reason to watch is the commercials. They're expensive, full of celebrities, and selling you things you don't necessarily need — the true essence of America. In order to help you parse through the onslaught of enthusiasm, Vulture presents a taxonomy of all this year's Super Bowl commercials released online so far, from the inspiring to the just plain unnerving.
POLITICAL
Budweiser
In the wake of Donald Trump's widely unpopular Muslim Ban, Budweiser's celebration of immigration seems a whole lot more political, regardless of whether the beer brand really wanted to make that big of a statement.
Audi
Audi opted for a message about gender inequality and the gender pay gap in its commercial, which, of course, has somehow still managed to anger some viewers online.
84 Lumber
After Fox reportedly rejected 84 Lumber's first draft of a commercial for showing the U.S.-Mexico border wall, the company submitted a re-edited version that ends on a cliffhanger. The rest of the trailer, which completes the story of a family of Mexican immigrants, will go up on the company's site during the game.
INSPIRATIONAL
Ford
Where other companies might have been more explicitly political, Ford simply wants you to "go further!" Faster! Easier! Better! Wrestle your enemies to the ground!
LIFEWTR
When you drink this water, all the colors in the world will become brighter, and John Legend will sing.
Michelob ULTRA
Have you noticed that the sound of opening a beer bottle resembles human breath? Michelob has!
McDonald's
While your take may differ, I find it personally inspiring that for every action in the universe there is a Big Mac.
CELEBRITY CAMEOS
Buick
Oh, if only every elementary-school sports game featured quarterback Cam Newton and supermodel/chef Miranda Kerr.
Honda
Young versions of Tina Fey, Robert Redford, Amy Adams, Magic Johnson, Steve Carrell, Missy Elliott, Stan Lee, Jimmy Kimmel, and Viola Davis are here to say that it gets better, especially if you are as talented and lucky as they are.
Intel
Tom Brady does a lot of dramatic things in his house. Offscreen, Gisele mutters, "Always, with the mess."
Kia
Turns out that the real thing that needed saving was Melissa McCarthy all along.
Mercedes
Starring Peter Fonda and directed by the Coen Brothers, this is an homage to Easy Rider, presumably because Mercedes cars make for an easy ride.
T-Mobile
[Justin Bieber puts on glasses.]
America: We will follow this scholar anywhere.
Tide
See, it's an elaborate joke about how Rob Gronkowski can't figure out how to make Jeffrey Tambor's stains transparent. (Ha ha, get it?)

Wix.com
Don't tell me if this is the plot of Keeping Up With the Joneses; I have been meaning to watch that movie on a plane sometime soon. (Part 2 of Wix's commercial is available here.)
National Geographic
We've left off most of the film and TV trailers that will air during the game here, as we've covered those elsewhere, but National Geographic's cheeky trailer for its Eistein series Genius deserves a mention. Do you think Geoffrey Rush knew who Lady Gaga was before they filmed it?
ANIMALS AND NATURE
Budweiser
From this commercial, I learned both that Spuds Mackenzie is back and that Spuds Mackenzie once was.
Busch
Nothing like the vintage sound of onomatopoeia.
Wonderful Pistachios
Honestly, this just makes us feel bad for Ernie the Elephant. Keep it up, Ernie!
Yellowtail

The first wine Super Bowl commercial in 40 years comes to your courtesy of a grilling Kangaroo.
MASCOTS
KFC
This spot approaches a Goldfinger-lickin' good joke, but some horrors were not meant to be.
Mr. Clean

Mr. Clean is sexy now. What else is there to say?
Sprint

The former Verizon guy continues his traitorous ways.
FANTASTICAL SITUATIONS
Nintendo
The new Nintendo platform looks fine, but the new Legend of Zelda game looks great.
Evony: The King's Return
We're gonna need a fact check on whether this game actually exists.
TurboTax

Pity the generation of children who will spend years having nightmares about Humpty Dumpty's broken face.
Avocados From Mexico
The avocados also released a statement saying they will not pay for a wall.
Skittles
Romance the rainbow, taste the rainbow, be slightly creeped out by the rainbow.
Wendy's

Instead of freezing their burgers, at Wendy's, they will actually kill a cow in front of you.
OTHER
Febreeze
Odds are you will actually be taking a bathroom break when this commercial airs.
King's Hawaiian
Cruel to give these kids buns, but deprive them of fillings of any kind.
Lexus
A Vogue insider says this video is the theme of next year's Met Ball.
TEASERS
Bai drinks
Just wait until you see Justin Timberlake (Trolls) in action.
Mobile Strike
Arnold will probably devote most of his commercial to arguing with Trump.
Persil

Before you Google, that is Peter Hermann of Younger.
Snickers
Snickers's commercial is being filmed live. Anything could happen, but it will probably include a horse and Adam Driver.
Tiffany & Co.
Halftime show star Lady Gaga appears in Tiffany's first Super Bowl commercial, but sadly does not wear her giant Joanne hat.
WeatherTech
Are the people in the WeatherTech commercial going to rob a bank? Is this the cover for the Ocean's 8 heist?
REJECTED
GNC
GNC's commercial got rejected by the NFL over some of the substances that appear in a small number of GNC products. You can still watch the trailer here — if you have the courage, that is.