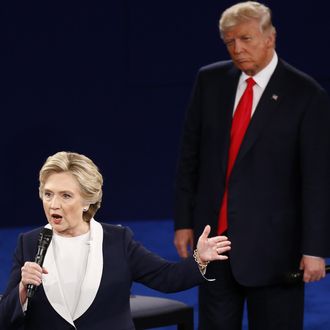 Hillary Clinton and Donald Trump.
Photo: Bloomberg/Bloomberg via Getty Images
Why reach deep into the supernatural nexus for horror inspiration when reliable standby reality is delivering it in spades? American Horror Story's upcoming seventh season will be about the 2016 election, proving that Ryan Murphy does in fact read your tweets. Murphy announced the news during Wednesday's Watch What Happens Live, but remained coy about whether the season will actually depict political figures, answering only "maybe" when asked if we would see a Donald Trump. So American Horror Story can cover the election, and American Crime Story can cover the aftermath. Perfect.