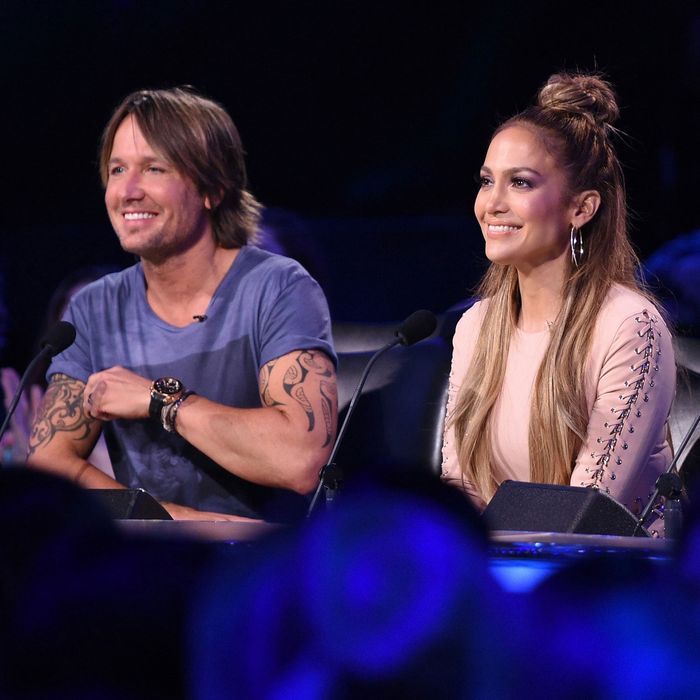 Long live American Idol.
Photo: FOX/FOX via Getty Images
It's been less than a year since American Idol wrapped its 14-year run on Fox — so, naturally, there's already talk of reviving the show. Vulture has confirmed a Variety report that producer Fremantle Media has been looking to set up a reincarnated version of the groundbreaking music-competition format, with NBC emerging as a strong candidate to be the home for the new Idol. Both Variety and our sources inside NBC insist there's no deal in place and there might never be one, though at least one industry veteran with knowledge of the conversations suggests the Peacock is poised to lock down the reboot rights. All of this may seem odd, given how far Idol's ratings had fallen from their glory years and considering NBC already has a perfectly good music-competition series in The Voice. But in actuality, there's some decent logic to the notion of Idol on NBC. Here are three reasons why:
1. It would be a way to rest The Voice.
For starters, while The Voice remains a relatively strong audience draw — NBC's Monday numbers plummet when the show takes its mid-season hiatus — its Nielsen ratings haven't been immune from the effects of age. The most recent season suffered double-digit declines versus the previous fall cycle, and NBC execs have been talking openly for months about the possibility they might (finally) decide to limit The Voice to one edition per season. Doing so, however, would require NBC to replace dozens of hours of programming in either the fall or spring — and that's where Idol could be a useful addition to the Peacock roster. The network could simply sub Idol for either the fall or, more likely, the spring edition of The Voice. Or, if it wanted to hedge its bets, NBC could shift its reliable summer powerhouse America's Got Talent into the regular season and replace it with a new take on Idol, which would air between June and September. This would have the added benefit of lowering rating expectations for a revival, while also underscoring the back-to-basics narrative NBC and Fremantle would likely use as part of any Idol relaunch. Such a plan would, of course, require Fremantle to produce Idol at a substantially lower price point than the old Fox show. (Though perhaps not that low: Remember, cutting The Voice back to once a year would save NBC a lot of money on judges' salaries.)
2. It makes it tougher for other networks to launch their own music competitions.
One disadvantage to NBC's stated desire to cut back The Voice would be that it would open the door for a rival network to fill the gap left by a diminished Voice footprint. Imagine a Fremantle sales pitch to ABC or Fox: "The Voice is only going to air in the fall; wouldn't you like to have a new Idol in the spring?" If NBC were to buy Idol, part of the appeal would thus be defensive: Any rival network that wants to capitalize on a pared-down Voice will have to do so with an entirely new project. What's more, as noted above, having Idol makes it much easier to shift AGT to the regular season without leaving a giant hole in NBC's summer schedule. Of course, such defensive buying — assuming an NBC pickup of Idol happens — doesn't always work out. It could be that the music-competition genre is just worn out, and NBC will find itself with a still-fading Voice and an Idol resurrection nobody wants to see. Or, another network could end up doing to NBC what NBC once did to Fox: When Idol was still riding high, Simon Cowell all but forced Fox to buy his U.K. smash The X-Factor, threatening to sell it to another U.S. network and take on Idol. When Fox folded, NBC decided to team with Mark Burnett on another musical format — The Voice. It became a smash hit, while Cowell's effort ultimately flopped (and hurt Idol in the process.)
3. It would likely still do relatively well in the ratings.
While Idol lost a lot of ratings ground during its last four or five seasons, the show was still regularly pulling over 10 million viewers during its final cycle last season, with decent demo ratings to boot. Even if you assume a 25 percent decline in audience for a new version, 7 or 8 million same-day viewers is not insignificant in 2017. Plus, with audiences increasingly opting to watch scripted shows on-demand — often via season-long binges — ratings for linear broadcasts of dramas and comedies continue to plunge. This makes event-style reality shows such as The Bachelor, The Voice and, potentially, Idol all the more valuable, since consumers tend to watch them in real time (something coveted by advertisers). So while the idea of American Idol returning to TV in the spring or summer of 2018 isn't going to win NBC any points for originality — and may very well end up being an instant dud — the notion isn't as laughable as it might seem at first glance.