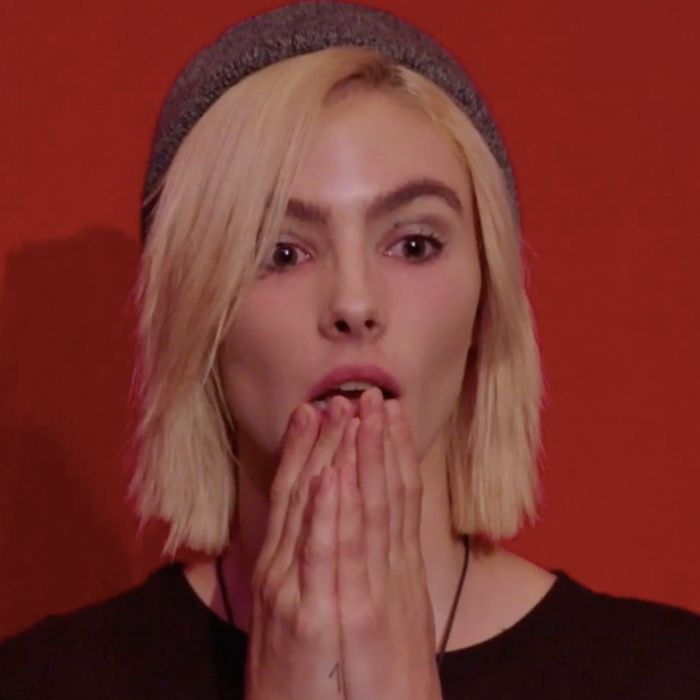 We've reached the Final Five of VH1's Little ANTM That Could, and that can only mean one thing: There's no more room for error.
You'd probably think there isn't much room left for error if an art director told you exactly what to do in your photo shoot, i.e. rip a wig off your head and look pretty while smearing pretty makeup on your very pretty face. But you would be wrong! Almost everyone is middling this week owing to either over-confidence or a lack of confidence. Models, listen! America's Next Top Model only asks two things of you: have the right amount of confidence, and turn a blind eye when Rita Ora wears the exact same thing in six RitAlerts in a row.
As we near the end of cycle 23, that also means it's time to bring in one of ANTM's cringy-iest lessons: ACT-ING. At the challenge, Rita describes acting as "an aspect of my career that I'm very excited about." It's fun to watch these models try to act, but it's pretty painful listening to all the judges explain why they're making the models try to act this week. The jig is up, ANTM! When the top model of the moment is Gigi Hadid, we know models don't have to be good actors to be successful models. You don't have to tell me that modeling is "silent acting," nor do you need to trick me into thinking this is anything more than an opportunity to make five non-actors cry on command in front of Rita Ora. I appreciate what you're doing and I happily accept it at face value. Now onto the acting …
The five remaining contestants work with acting coach Susan Batson to prepare for a scene they'll perform with Orange Is the New Black's Adrienne C. Moore. Both women are very kind and generous in the … hmm let's say dynamic hand they're dealt. No one is terrible, but they're all novice actors with the exception of Courtney, who says that acting is a passion of hers. Susan tells the women that even if they don't want to pursue acting, this is an important exercise to help get in touch with their emotions. She asks them to channel a loss they've experienced in their life and let that be the undertone of the scene.
CoryAnne seems to take this most to heart, channeling the figurative loss of her mother, who "lost herself" after her days as a '90s top model. She's very emotional during her performance, and Susan says CoryAnne was pulling out her truth. Tatiana, on the other hand, goes into the challenge knowing that acting is one of her weaknesses and she proves it with a very bland delivery. Cody says she's just too happy with her recent win to channel any loss, while India channels a little too much. She's accused of overacting in such a nice way by Adrienne, she doesn't even realize it. Turns out Courtney wasn't fronting about her love of acting: Adrienne and Susan tell her she came onto the stage fully present and her emotion was very believable. As a winning prize, she receives a consultation with Susan to talk about her work as an actor (er, model).
With all this new access to their emotions, the models are sent to a photo shoot where Drew Elliot tells them they're to "evolve from gorgeous top model to model gone mad." Basically, they're shooting a short beauty video, and I don't even care that they don't get any acting background or motivation as to why they might be going mad, because goodness knows I'm just a sucker for the aesthetic of a beautiful model smearing lipstick on her face. Why is that such a high-fashion go-to?
But even with that softball photo shoot, the models struggle to convey a quick bout with crazy while still keeping the pretty. Courtney is the only model who seems to nail the very specific "going crazy without being scary and still looking pretty" vibe on set — or as she aptly puts it, avoiding looking like she's "having a very painful orgasm." When the video actually rolls at panel, though, it's not all rave reviews: Law says that he usually can't get enough of her face, but her video felt a little overacted. Drew thinks it had some great moments, and Rita appreciates that Courtney can go from acting onstage to a beauty campaign model.
On the reverse side of the mixed-reviews coin, CoryAnne gives a super weird performance at the shoot — think horror movie, but instead of blood it's a lot of aggressive makeup rubbing — and her video somehow turns out all right. Drew thinks it was the first time CoryAnne didn't look beautiful, while Law says she looks gorgeous, like a "European hooker." Y'all, Law is on one tonight.
When asked about her mother, CoryAnne gets very emotional, saying that she feels like she didn't recognize that her mom was headed down a bad path because she wasn't around her enough as a child. In response, Rita gives some classic Rita advice: "This is going to make you or break you — don't let it break you. Everyone has a story, girl. This is yours."
India's story, meanwhile, seems to be that even when she thinks she's blown it, the judges love everything she does. India struggled with a lot of the technicalities of getting her wig off and getting the makeup on her face during the shoot, but once the completed video airs, Ashley says that she couldn't take her eyes off of it, and Rita reiterates (Rita-iterates?) that India is a chameleon who can adapt to any look. Drew gives some very interesting feedback: He tells India that it often seems like she brings 70 percent; they still get good content, but he knows they could be getting more. Even at 70 percent, India still gets Best Photo.
Which leaves early season darlings Tatiana and Cody in the bottom. Tatiana struggled this week because she couldn't dial it up for the acting portion of the challenges. As a result, she doesn't look particularly pretty in her video, and the judges conclude that while she may be a boss, she might not be a model-boss. When she admits this wasn't really a flattering look for her, Drew informs Tatiana that this is not the What's Right For Tatiana Show: "We are doing a series of amazing lessons from world-class teachers who are here to train you into being an industry top model." I actually, really appreciate that succinct description of what they're doing at this point in the season.
The judges must feel Tati has a little bit more to take from these lessons, because it's Cody who's sent packing. After learning that Drew specifically told Cody not to go crazy with smeared makeup, they just don't see enough of a reason to keep her around. Despite a few excellent moments throughout the season, the judges wanted to see consistency from Cody, and she didn't serve it tonight. Another twin bites the dust, and now we're down to the Final Four. Bring on the makeup commercials!