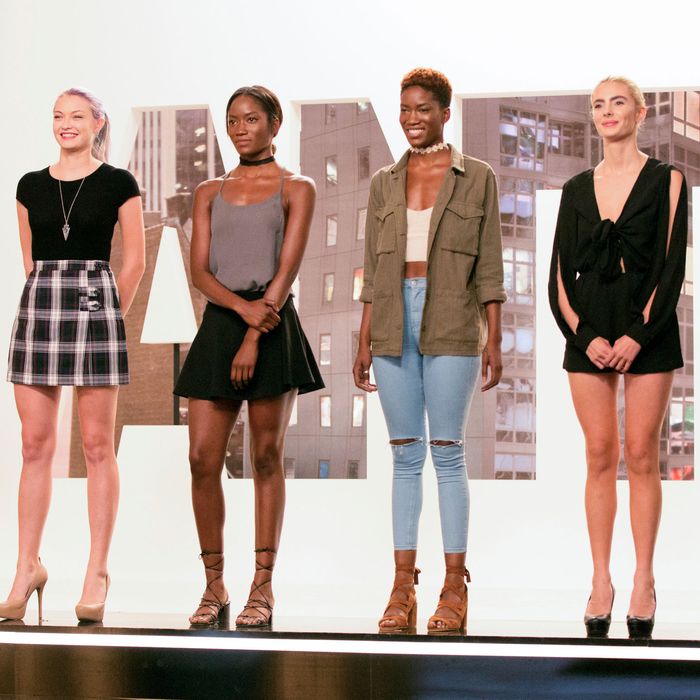 The final six models.
Photo: VH1
"This is where we separate the girls from the models." —Drew Elliott
The theme of tonight's episode is spoken by Drew Elliott, but don't be fooled, this hour is all about one Rita Ora. She is the host of this reincarnated America's Next Top Model, as well as an active member on the judging panel, but she hasn't been around all that much. She isn't at every photo shoot, this week is her first visit to the models' residence, and all of her RitAlerts have clearly been filmed on the same day. (I treat them like a "Spot the Difference" game, and therefore the RitAlerts are basically my favorite part of each week.)
The thing is, Rita is just so busy! As India describes it, she's a "pop star slash model slash actress." Tonight, she finally stops by to teach the remaining six models how to live the life of someone like her. Much like Tyra Banks before her, it seems like Rita is the new goal for these women to aspire to: not so much a supermodel, but an all-around famous person. Pick four to six lanes, and go for 'em!
The models are told repeatedly that it's not enough to just be a good model. Although that sounds awfully silly on a show about being a good model, there is some twisted logic to it. Rita Ora is not a top model, but I don't mind her hosting ANTM because she's got a fun accent, her favorite compliment is telling the models she's torn between wanting to be their best friend or having sex with them, she has like four lines of dialogue in each 50 Shades movie, and there's just something about her general being that's hilarious. If one of these six girls can prove that she has her own weird bag of tricks, then maybe she can be hounded by paparazzi 24 hours a day too …
Because that's the models' first challenge. Rita comes over to the house to get to know the girls a little better and tell them that, this week, they'll experience what it's like to live a typical day as Rita Ora. Unfortunately, the twins take over get-to-know-you time, telling a rather patient Rita all about their complicated sibling dynamics, which have taken a turn for the worst since Tash reentered the competition. Both sisters think the other is more liked by others. Rita, who has surely faced much criticism, advises them to not worry so much about what other people think: "You don't need to hear it from anyone else. The proof is in the puddin'!" Never change, Rita! (Which is to say, keep saying super British things.)
After the twins scream at each other through a shower curtain and everyone else gets some rest, the contestants head to Live Like Rita day, and are immediately mobbed by paparazzi. As far as personal details about Rita's life go, we pretty much only learn that she's always being mobbed by paparazzi. To be fair, at least half of Rita Ora's fame is owed to the Daily Mail devoting one quarter of their website to covering her every move — and to be fair to Rita, she's pretty honest about it. She tells the girls that celebrities used to hide from the cameras, but now they've learned to use them to their advantage.
Every sidewalk is a runway opportunity these days, so the challenge this week is to walk back out to the paparazzi and serve up a free publicity photo shoot while still looking natural. ("It's like accidental modeling," says Rita.) After the shots have been reviewed, all of the models get positive feedback for following Rita's advice, especially India, who was the only one who showed off her personality; Tatiana, who looked totally comfortable and like she had just signed a million-dollar contract; and Courtney, who ultimately won for her laid-back pose and mysterious aura. As the prize, she gets to head out of town on what's described as "a VIP adventure" to Universal Studios in Orlando. She chooses India to accompany her, which seems like a solid choice considering that the four remaining competitors talk a lot about how time away from Courtney is their personal prize. Yeesh.
But before anyone gets to knock back a butterbeer at the Wizarding World of Harry Potter, they head straight from the paparazzi challenge to … a cover shoot for Paper magazine! Well, sort of.
This cover will be the one used for whichever model ultimately wins the whole ANTM shebang, but Drew and Rita are very careful to say that it will actually be a Paper magazine cover. The winner of this season's ANTM does, in fact, get a spread in Paper, but it seems like the cover will only appear online. Still! Shooting a fake cover is much more ANTM than shooting a fake music video, and Drew Elliott is right: This will separate the girls from the models. Because when you're shooting a cover, you're only selling one thing: yourself. Boss, brand, beauty, bitches!
As Rita welcomes the women to the panel, she makes sure to repeatedly point out the stakes: Now that it's down to just six models, they're being evaluated on their overall body of work, rather than individual photo shoots. The most consistent overall performer, Tatiana, shows out consistently once more tonight. She's the only model with a cover shot that features her entire torso (plus giant glitter hat!), and Law loves her chill body language, right down to the tip of her index finger. Drew tells her, "I'm so happy that we have this cover because I think you're going to be a superstar," but also advises Tatiana that she needs to be surer of herself.
CoryAnne earns slightly more mixed reviews. During her shoot, Drew keeps telling her that she looks like an elderly woman, which as an actual 19-year-old is … not great. But Rita thinks she's finally showing off the attitude that she'd been missing — and modeling is just as much about attitude as it is about face, as the judges tell India. Her cover shot, with her hair slicked-back and dramatic eye makeup, is gorgeous, the whole panel agrees. Law can't help but tell her, though — pause for dramatic effect — that she looks just like Gigi here. As Ashley reminds us, looking like one of the top supermodels in the world right now isn't the worst thing. She just needs to set herself apart with her personality. Unfortunately, Drew isn't sure India has that superstar flare in her.
The girl who has it all this week is Cody, who wins Best Photo despite all of those sisterly struggles. Her shot is indeed spec-tac-u-lar. From about mid-chest to the top of her head, staring dead ahead, Ashley tells Cody that she's giving hair, face, emotion, body, background — everything. I'd say it's the only one of the bunch that would make me do a second take at a magazine stand, and Drew says she's now set the bar for herself.
Unfortunately, that leaves two models at the bottom: Courtney, who seems to have carved out a permanent spot for herself on the chopping block, and Tash, who's already made it past this point and back again. Courtney felt so confident doing a super-close-cropped beauty shot because that's the one thing she's consistently booked for, and she indeed nails the final product, but Drew says that being up close and personal with her just magnified the difficulties she seems to have in every shoot.
And yet, nothing compares with Tash and her warped vision for herself. Despite her haircut and sharp features, she's been determined to play this "girly and flirty" role for quite some time. (May we never forget her bathroom tantrum during makeovers.) That, plus a middling photo and her bizarre insistence on doing weird stuff with her hands for the majority of the shoot, earns her a second and final ticket home. At least someone with her exact same face will carry the family ANTM torch to the final five.