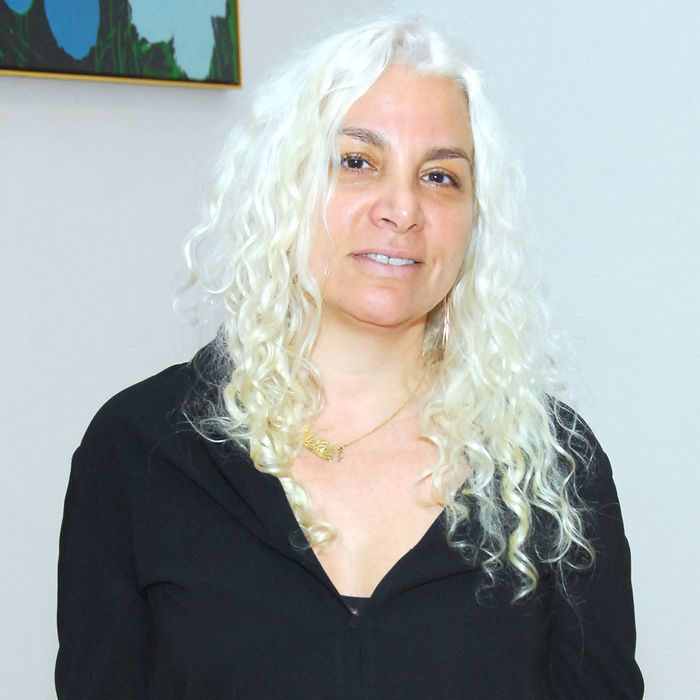 Andrea Rosen.
Photo: Owen Hoffmann/Owen Hoffmann/PatrickMcMullan
At 6:36 p.m. Tuesday I — along with many others in the art world — got a form-letter email from one of the better gallerists in New York, Andrea Rosen. It was signed simply Andrea. And it was long — two printed-out pages, 11 paragraphs. Thinking it was gallery news or information about a new artist or exhibition I read the top few paragraphs. It started with "I'm writing to you about some important information regarding Felix Gonzalez-Torres and the gallery." She went on to say that she'd approached David Zwirner Gallery about co-representing the late great Felix Gonzalez-Torres — Rosen's amazing debut 1990 show. I stopped reading, pondered the news, and wondered why she'd write so long and personally about this fairly standard co-representation. It was pretty effusive: "My greatest gift in life after having a daughter, is the ongoing honor to work with … Felix." She also wrote that she's "extremely interested in collaboration." Cool.
Getting personal about business? I chalked it up to Andrea just being Andrea, completely in love with and dedicated to this foundational artist whom she shepherded to the very pinnacle of the art world, before and after his death from AIDS at 39 in 1996. Maybe that's why the letter also recounted the culture wars of the 1990s, mentioning Mapplethorpe and Jesse Helms. It makes a certain amount of sense that the megagallery Zwirner makes Rosen's access to the really big intuitions and bucks that much easier. "Good for her," I thought and chuckled to myself about how long the email was, how passionate, though of course I also wondered about what developments might have prevented her from continuing to represent the estate herself — at the very least, that is, why as its executor she decided she needed the help of a powerhouse like Zwirner.
I've known Rosen professionally, and admired her, for 30 years. She was a kid with platinum hair even back then, working in another gallery space (Daniel Newburg Gallery) that was then showing unknown artists like Maurizio Cattelan, John Armleder, and Rudolf Stingel, and she seemed to know every young artist and critic in town. Rosen is nothing if not an idealist; her style has always been earnest thinker-talker and her wont is to go protracted. She doesn't do small talk — just long talk. Philosophical talk. I love talking to her but have had to break away from more than one conversation. Her toasts are beautiful sidewinding epics of her love of her artists. And really, most gallerists love talking about their galleries and artists, so Rosen's letter was just garden-variety self-revelation. I clicked away from the email. Smiling.
A minute later, however, I thought I'd post the co-representation thing on Facebook. So, I went back and read the whole email. That's when I read her asking, "What is the most productive role that I can play, not only for Felix but for the role of my gallery, the art world, and the world at large?" Then this: "My clarity evolved over the last few weeks." I read on and, buried at the end of the ninth paragraph, "I will no longer have a typical permanent public space and therefore no longer represent living artists." I was shocked. And then I got really sad: For whatever reasons, just like that a gallerist was gone. And not just anyone — one who'd opened with a bang in 1990 and was part of a group of fellow gallerists who appeared soon thereafter and changed the New York and international gallery scene, including Friedrich Petzel, Gavin Brown, David Zwirner, Anton Kern, and many others.
When I posted the news on Facebook people reacted with real dismay. Everyone was sad. And they seemed worried, which may have been partially my own fault for asking, in my post, what the closing meant for galleries like Rosen's — those unimpeachably well-respected but not quite megagalleries. The response suggested others in the art world were anxious about the answer — anxious that Rosen's closing was bad on its own but also represented something much bigger that's been gathering on the New York art world horizon for a while, as a handful of galleries (mostly on the Lower East Side) have closed or moved citing difficult market conditions while collectors complain about not being able to afford even entry-level prices anymore. Of course, unless the art market is way more tortured and dysfunctional than even I think, both can't really stay true for very long, though that hasn't stopped a wave of stress from rippling through the gallery world over the last year. When I called a gallerist this morning, I started by saying "Hi, how are you?" and the dealer simply said, "Shocked." I knew what was being referred to.
But Andrea Rosen has always been singular, so presumably we should let her speak for herself, whenever she sees fit to. I called her a few times today but haven't yet managed to speak with her at length — I can imagine it has been a very busy day for her. I hope to talk to her soon, and until then I'll assume she closed the gallery for no other reason than maybe she wanted a life. (When I suggested this to another dealer who admires Rosen, this dealer laughed, "Oh my God! What else would I do?") In the meantime I thought the most appropriate thing to write would be a little love note, saying how important Rosen's gallery has been to me.
The first few years were mind-blowing, challenging, even scary. The first day alone still reverberates with me. On January 20, 1990, I walked into this brand-new gallery in a brand-new gallery building at 130 Prince Street, a remodeled former Soho bakery. It was bigger than other galleries. Cleaner, purer than others. It was one of the first cement floors I saw in a gallery. Something was instantly different about this gallery. This is because few galleries captured the explosive change the art world was about to undergo, with new artists, collectors, gallerists, and critics all arriving at the same time and with money not in abundance and AIDS a horrible psychic backdrop, and new multicultural, transnational interactive aesthetics in the air. After passing the little desk with the excited Rosen in attendance I saw the solo show of the 33-year-old Gonzalez-Torres.
In the otherwise-empty clean main gallery I was stopped in my tracks by four paper stack pieces. I didn't know what I was seeing. I'm not even sure I saw these as art. Minimal and post-minimal gestures and geometries like these seemed dead, impossible, silly, redundant. But the material made a big difference; the paper was also cheaply printed with stripes or blocked colors. And you could take the paper. The art was free? So these sculptures lost their stability and solidity and turned into something like mechanical or biological models of reproduction, replication. The paper is always replaced, which made the works simultaneously endless and ephemeral, touchable, yet pure, inviolate in their pristineness but highly haptic in experience. And you could take them home. A shadow passed over the art world and I knew not to laugh — that here was new magic. And it was great to have this from a Hispanic out-queer artist, who made references to these things, as well.
Soon after Rosen was showing other new artists, including Rita Ackermann, Ken Lum, Heimo Zobernig, Tony Feher, Andrea Zittel, Paula Hayes, Julia Scher, and Sean Landers — who had a breakthrough 1992 show there of a year's worth of his personal calendar entries wherein he recorded everything from being work-blocked, to feeling attracted to other women, to his professional rages and delusions of grandeur. He soon thereafter ended up on the cover of Artforum, co-king — with artist Cary Leibowitz, a.k.a. Candy Ass — of what was then referred to as Slacker Art or the Pathetic Aesthetic. Change was happening fast.
And faster at Rosen's. She began showing Yoko Ono, Tetsumi Kudo, the Walker Evans Estate, and three personal favorites, Matthew Ritchie, David Altmejd, and Ryan Trecartin. And one of the biggest names of the last few decades — John Currin with his weird realism. Small canvases that looked like self-portraits crossed with him as Breck Shampoo girls. Was he serious? Were these a joke? Were we allowed to look at these vacant-eyed young women? Here was realism but cloaked in irony, doubt, clownishness, sinister intention, love, intelligence. And Currin's oldenlike technique in an art world that since the 1960s had lauded "de-skilling" was beyond the taste pale. People were shocked. So was I. It took me at least another Currin show to see the depths of what he was up to.
The biggest shock for me was the now world-famous Wolfgang Tillmans. When I first saw his offhanded perfect-imperfect photos of a new generation, arrayed on walls — as if the room were some kind of walk-in display case with pictures at every level, grouped here and there or in clusters — I honestly didn't yet see this as photography. And didn't yet recognize Tillmans as what I came to understand him to be, pushing to redefine and expand every photographic genre he could find. I thought it might be advertising or something other than art. Within 48 months, in other words, Rosen had not only identified three foundational artists of the 1990s but of the last few decades in Gonzalez-Torres, Currin, and Tillmans — and three artists whose work could not be more different. She ushered all three to the heights of the art world, as well. I measure gallerists by their ability to identify and then introduce artists. Rosen is a very great gallerist by this measure. And will continue to be, permanent space or not.