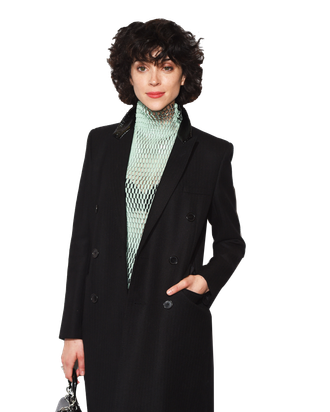 The anthology format is increasingly becoming a staple of horror, and with good reason: It's a way to spotlight the wealth of up-and-coming directors working in a genre that's currently at a high point of innovation. But few people could have predicted that Annie Clark, better known as rock experimentalist St. Vincent, would be among those up-and-coming directors. She's making her directorial debut in XX, an all-female horror anthology that premiered at the Sundance Film Festival and arrives in theaters and VOD Friday.
Clark's short, The Birthday Party, which follows a particularly desperate housewife played by Melanie Lynskey, stands out tonally and stylistically from her fellow filmmakers: Its colors are oppressively cheery, and its design informs its story in a way that feels of a piece with how Clark has built a visual language around each successive St. Vincent album. Clark also composed her own score, lending a heavy guitar line that undercuts the antiseptic Stepford Wives visuals.
What The Birthday Party lacks in conventional horror — Clark says she's too scared to watch most horror films, but cites Michael Haneke as a reference — it makes up for with its dark humor and assured sense of style. It goes out with a triumphant musical sequence that makes one curious about what the newly minted director may try her hand at next. We spoke to Clark over the phone about the horror of everyday interaction, and how she curates the look and feel of a project.
How did you get involved in XX?
I got a call in late 2015 from [producer] Todd Brown, asking if I wanted to be involved, and direct a short. And I just said yes — I mean, I can't imagine … it doesn't often happen in the music industry, where someone says, "Here's a bunch of money, just make something."
You and [V/H/S and fellow XX director] Roxanne Benjamin worked closely together on The Birthday Party. How did you get connected, and how did your creative sensibilities mesh?
Todd thought she would be a good producer, so brought her on to produce my short, and then we ended up co-writing a script together. And she's just the best collaborator anyone could be. She really helped, and held my hand through a lot of things. I had a squillion questions and she helped me through all of it.
Where did the original concept come from?
The story was based on one a friend of mine told me, just this woman waking up in a house with a dead body, and having to make very split-second decisions to protect the innocence of children. And that was very compelling to me. And also, I was looking at this magazine Toiletpaper, and there was this immaculate shot of a living room, with beautiful Memphis-style Italian furniture and a rug, and there were two feet sticking out from under the rug. And that sort of encapsulates my worldview in a quick picture.
We started out writing it, and initially it was kind of a very heavy, wooden mahogany dark-wood opera piece, and then we got halfway through with it and we realized we had written a comedy. And so we kind of changed, and shifted focus. The visual aesthetic of the full piece helps really frame the absurdity, and allows you to feel empathetic and also laugh at this Weekend at Bernie's meets Who's Afraid of Virginia Woolf? story.
Yeah, I was going to say — the horror element is one thing, but it seems like you certainly have a natural eye and ear for dark comedy — especially in ways Melanie Lynskey's character interacts with the other female characters.
Yeah, I think there's true horror in the way women get trained to be misogynistic. That is an overarching theme of the piece, for sure.
Do you see that theme interpreted anywhere else in XX? Do you think there are any ideas the film as a whole speaks to particularly well?
I wouldn't want to suggest that the work of five different filmmakers represents all women. I think the point is that there's a plurality of voices and no voice is marginalized because of gender.
The film's final sequence is the most affecting, and utilizes music that you composed for the film. Did your experience with your own music videos help inform the way you married the score with the story?
Well, when you're working on this stuff, you compile a visual and visual narrative bible and then try to make sure every decision you make is instinctively tying back to the DNA of the piece. So one of the references early on was "Black Hole Sun" by Soundgarden. That video really stuck with me, but also, I put it in as temp music at the end of the film, for the ending sequence. And it accidentally worked perfectly, and so I was trying to get a hold of Chris Cornell to see if I could license the song for the film, but I didn't have any luck. So I basically paid homage to "Black Hole Sun" at the end. And it just makes me laugh. The darkest parts of the movie, to me, are the funniest.
Did you have any specific horror directors or films that you were inspired by?
Well, I don't know the horror genre that well because I'm too scared to watch it. But I think of people like Michael Haneke, or Claire Denis. Or even, like, Happiness by Todd Solondz is a horror film to me.
This sounds like it was an enjoyable left turn for you, but is directing something you'd ever try again?
I'd love to do it again. I love the collaboration, I love the adrenaline, I love working with the actors. I love watching stuff come together. I definitely want to direct more — write and direct more, and even be in front of the camera. I don't know, it's all very exciting to me.