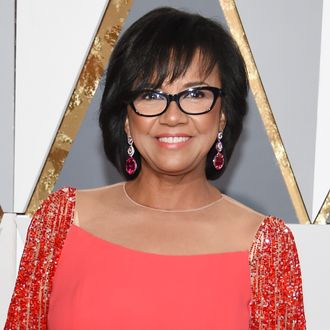 Photo: Ethan Miller/Getty Images
Today, the Academy of Motion Picture Arts and Sciences hosted its annual luncheon for all the year's Oscar nominees, and Academy president Cheryl Boone Isaacs used the occasion to speak on President Trump's executive order on immigration. "Art has no borders," said Isaacs. "Strong societies don't censor art, they celebrate it," she said, adding that, "Borders cannot be allowed to stop any of us." Hollywood has largely stood in clear and vocal opposition to Donald Trump since before he was elected to the presidency, so it's unsurprising that Isaacs would use the nominees luncheon to speak out against the travel ban that prevents people from entering the United States from seven Muslim-majority countries — Iraq, Libya, Somalia, Sudan, Syria, Yemen, and Iran. But Isaacs had extra incentive to advocate for inclusiveness, considering several nominees have been affected by the ban. "Each and every one of us knows that there are some empty chairs in this room, which makes all of us activists," she said.
Despite the fact that the executive order is currently not being enforced because of a temporary restraining order issued by a U.S. District Court judge in Seattle, the director and star of The Salesman, an Iranian movie nominated for Best Foreign Language Film, have opted out of attending the ceremony. Actress Taraneh Alidoosti tweeted, "Trump's visa ban for Iranians is racist," and she said she would not be attending the Oscars in protest. Director Asghar Farhadi is taking the same course of action, and has called the ban "unjust." The effects of the travel ban are already rippling outside of the Oscars, too. Just last week, fellow Iranian Golshifteh Farahani told The Hollywood Reporter that a potential role was in jeopardy because she couldn't get into the U.S. to work, and shortly before that Iraqi director Hussein Hassan struggled to get a visa approved so he could attend a Miami film festival where his movie The Dark Wind was screening. Hassan ended up withdrawing that application in protest.
This systemic hurdle to inclusion puts something of a damper on the Academy's efforts at greater diversity. The past two years have been tainted by criticism of #OscarsSoWhite, but optics have been better this year with nominees of color in each of the major categories. "Real progress has been made — progress that I am confident will continue in the future," said Isaacs, who may now have to confront government regulation that builds roadblocks to diversity, just as her Academy is making progress toward broader inclusion.