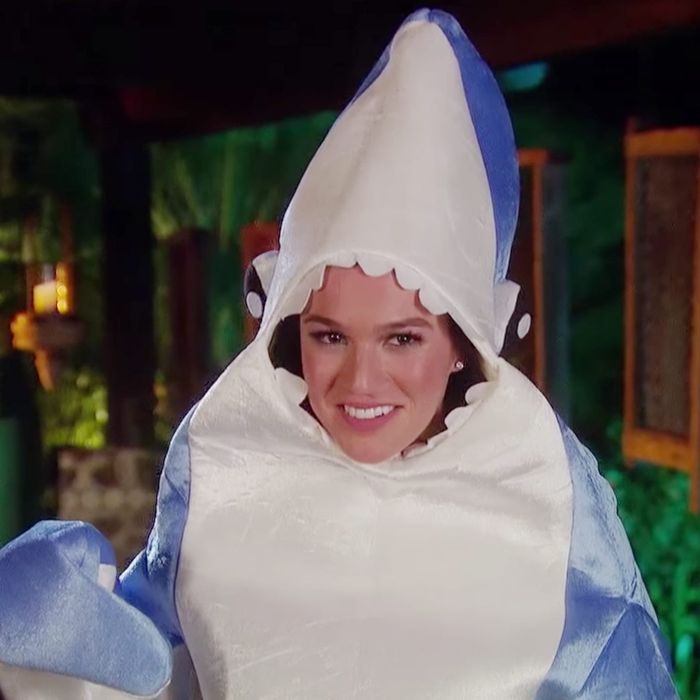 Sorry, it's definitely a shark costume.
'Twas the first night of The Bachelor and all through the house,
The ladies were dressed to the nines, in search of a spouse.
The roses were laid on an end table with care,
In hopes that Bachelor Nick would soon be there.
While most women squeezed into tight jewel-toned dresses,
There was one in a shark costume who lacked any stresses.
Her name was Alexis, 23, "Aspiring Dolphin Trainer,"
And the irony of her costume couldn't have been plainer.
"It's a dolphin," she insisted, clutching her vodka tonic,
Her commitment to the bit unwavered with Nick.
For her good-natured stubbornness, she snagged a rose on night one,
And Alexis's journey on The Bachelor had officially begun.
There were group dates, and more group dates, and group dates galore,
Each time Alexis showed up more delightful than before.
Like during the photo shoot where she played a shotgun bride,
(She didn't know what that meant, but took that fake belly in stride.)
As the weeks wore on, she was seen only in the credits,
But we're glad her fear of Nic Cage and aliens wasn't just an edit.
While other ladies feuded about dates and "emotional intelligence,"
Our hero knew that all that mattered was her cultural relevance.
So for brightening our Monday nights, Alexis, we salute you,
We're confident you'll soon find another man to woo.
But if you're looking to give your love life some spice,
Might we suggest Bachelor in Paradise?