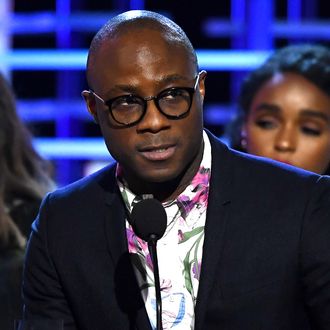 Barry Jenkins.
Photo: Kevork Djansezian/Getty Images for Film Independent
After taking home six awards for Moonlight, a film about a young black man coming to terms with his sexual identity, writer-director Barry Jenkins took to the press room at the Film Independent Spirit Awards to air his thoughts about the recent reversal of federal guidelines protecting transgender rights. "I'm pissed off. As Casey [Affleck] said, he was pissed off. I'm pretty sure the majority of the room in that hangar is pissed off," said Jenkins when asked how he felt about what was happening on the political stage. "[I feel] terrible. There's no other way to answer that question. It's why quite a few of us are wearing these pins, you see? These GLAAD Togetherness pins. It's an ampersand, because it's about togetherness. It's about bringing all of us together. About inclusivity, inclusiveness."
"I think Moonlight exists as this beacon of inclusivity, as this version of America that's as valid as any red state version of America," he continued. "I'm empowered by that. I've got to tell more stories and speak truth to power. So yeah, I'm pissed off, absolutely. But I made this movie with a very different administration. It was a very safe space. So it's a positive to keep making things in that way, [and] thank God it exists, because now the space is not so safe."
Jenkins wasn't the only one upset about the president's latest political move. "I think it's abhorrent. Shame on him!" said Ava DuVernay.
Edgar Ramirez also voiced his concern, saying, "It worries me, the lack of protection for trans kids across the country. The reality is that we need to show them that they're not alone. Trans rights are human rights. Women's rights are human rights. By [their rights] being lifted, we are diminishing basic human rights. Trans kids have the right to feel protected, to feel loved, to be accepted."
"I'm wildly frustrated all day long about everything that is happening right now," added Aisha Tyler. "I think that we are seeing a massive rollback in social freedoms that people literally have put their lives on the line over for many decades. And we're a country that provides us social freedoms and provides us personal freedom and we're seeing those being taken away. They are not being eroded; they are being slashed with a machete. And I think that anybody that isn't outraged is not paying attention."