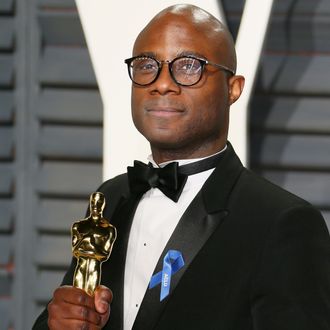 Barry Jenkins.
Photo: AFP/Getty Images
The infamously bungled announcement of Best Picture Sunday night cemented the ceremony in Oscars history, but it also robbed the producers of Moonlight from fully embracing their historic win onstage. In his speech, Jenkins gave his support to La La Land, which was erroneously declared the winner just minutes before, and mostly seemed to be in shock. In an interview with EW the morning after the ceremony, he said that he made an "imperfect statement that didn't come out the right way." Under different circumstances, he told EW, he would have liked to say something like this:
"[Moonlight playwright Tarell Alvin McCraney] and I are this kid. We are Chiron," he says, referring to his background as a child from Liberty City, Miami, whose mother once struggled with drug addiction. "And you don't think that kid grows up to be nominated for eight Academy Awards. It's not a dream he's allowed to have. I still feel that way. I didn't think this was possible. But now I look at other people looking at me and if I didn't think it was possible, how are they going to? But now it's happened. So what I think of possibility, let's take it off the table. The thing has happened."
Gaffes are fun, but if only we could have heard that speech on live TV.