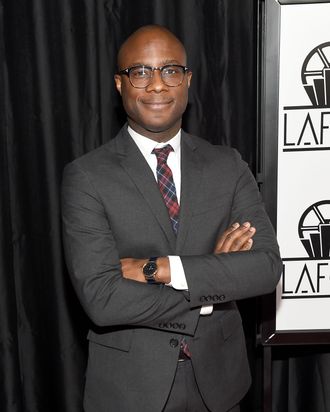 Photo: Matt Winkelmeyer/Getty Images
Moonlight writer-director Barry Jenkins just got back from an European tour promoting the movie, and he was shocked at what this year's Oscars race has done for his profile. "When I was in Holland, my face was everywhere!" Jenkins said on The Awards Show Show this week, recalling the strange sensation of people honking at him on the street to lend support. With 8 Oscar nominations, Moonlight is second only to the 14 given to Damien Chazelle's modern musical La La Land, and Jenkins laughed at the notion that both directors have suddenly become big in Europe. "Everywhere there was a newscast in Germany or Holland about the Oscars, it was 'Damien and Barry Jenkins,'" he said. "It's like we're in a battle royale."
Of course, for many Oscars watchers and film fans, that battle royale is a real thing. As online backlash to La La Land grows — the hot takes are plentiful, with some even calling the movie "fascist" — Moonlight is touted by some as the only film that can defeat it … an awkward narrative for Jenkins, who has become good friends with Chazelle over this awards season.
"I wasn't on set thinking, 'I'm going to make a film that can take down the 'white, fascist musical,' just like I'm sure Damien wasn't on set thinking, 'I'm going to make a movie that can take down the gay, black, hood love story told in an art-house way,'" said Jenkins. "It just doesn't work that way. Just like all these movies [like Moonlight, Fences, and Hidden Figures] are being framed as a response to #OscarsSoWhite — I think they all arose in a vacuum, and they just arrived at this moment. It's great for people out there who need a narrative, but we're just trying to make art."
That's not to say that Jenkins isn't conscious of all the strategizing that goes into the Oscars race. "I'm on this podcast, so very clearly, I'm participating in awards season," he told Awards Show Show hosts Kyle Buchanan and John Horn. "So much is at stake with the results of all these things we're going through … and yet I don't want those results to affect my feeling, my appreciation, my pride in the work that we did."
And at the very least, awards season gives his eloquent cast the chance to speak passionately from the heart, as Moonlight's Mahershala Ali did last weekend with a highly praised speech at the Screen Actors Guild Awards. "It's much easier to be silent than it is to speak up," said Jenkins, who admits that he watched Ali's moving speech "through blurry eyes." And if Moonlight does prevail on Oscars night, will he follow suit? Jenkins smiled: "If I'm so lucky to give a speech, maybe I'll say a little somethin'."

Listen to their conversation below, and subscribe to The Awards Show Show on iTunes.