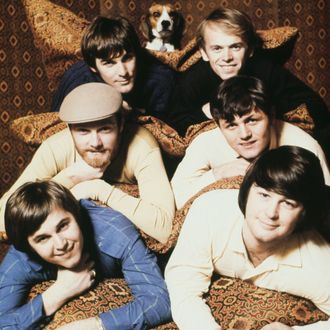 Beach Boys: Dennis Wilson, Al Jardine, Mike Love, Bruce Johnston, Carl Wilson, Brian Wilson (Photo by GAB Archive/Redferns).
Photo: Antonia Hille/Getty Images
Celebrating last year's 50th anniversary of Pet Sounds, the surviving members of the Beach Boys are opening up about the album's creation in a documentary for Showtime. The 1966 album is considered by many to be the height of songwriter Brian Wilson's artistic achievement and features songs like "Sloop John B," "Wouldn't It Be Nice," and "God Only Knows." According to Pitchfork, the doc, titled Beach Boys: Making Pet Sounds, includes interviews with Brian Wilson, Mike Love, Al Jardine, Bruce Johnston, and David Marks. Recording Pet Sounds was widely reported to be tense, as Brian Wilson, who was not touring with the band at the time, pulled his brothers (Carl and Dennis Wilson, both deceased), Jardine, and Love away from the simpler harmonies and more straight-forward lyrics of the surf music they were known for. In addition to the interviews, the doc will have archival footage and outtakes from the recording sessions. The doc will air in April.