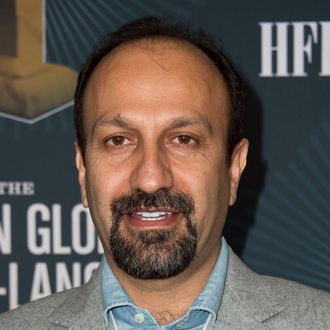 Iran's Asghar Farhadi, who has boycotted this year's Oscars.
Photo: VALERIE MACON/AFP/Getty Images
On the eve of the Academy Awards weekend, each of the nominees for Best Foreign Language Film joined together to condemn a surging culture of nationalism that's taken hold in the United States and across the globe. Iranian director Asghar Farhadi, who in January stated he would boycott the Oscars ceremony because of President Trump's executive order banning residents from seven Muslim-majority countries from entering the United States, was joined by his four fellow nominees in co-authoring a statement about the need for inclusivity. "On behalf of all nominees, we would like to express our unanimous and emphatic disapproval of the climate of fanaticism and nationalism we see today in the U.S. and in so many other countries," the statement begins. It goes on to shout down fear of difference and praise those who are fighting for greater unity and understanding:
Regardless of who wins the Academy Award for Best Foreign Language Film on Sunday, we refuse to think in terms of borders. We believe there is no best country, best gender, best religion or best color. We want this award to stand as a symbol of the unity between nations and the freedom of the arts.

Human rights are not something you have to apply for. They simply exist — for everybody. For this reason, we dedicate this award to all the people, artists, journalists and activists who are working to foster unity and understanding, and who uphold freedom of expression and human dignity — values whose protection is now more important than ever. By dedicating the Oscar to them, we wish to express to them our deep respect and solidarity.

The message is co-signed by Farhadi and directors Martin Zandvliet (Land of Mine, Denmark), Hannes Holm (A Man Called Ove, Sweden), Maren Ade (Toni Erdmann, Germany), and Martin Butler and Bentley Dean (Tanna, Australia). No matter which film takes home the Oscar, the solidarity between competing creators stands to rival the poignancy of any speech.