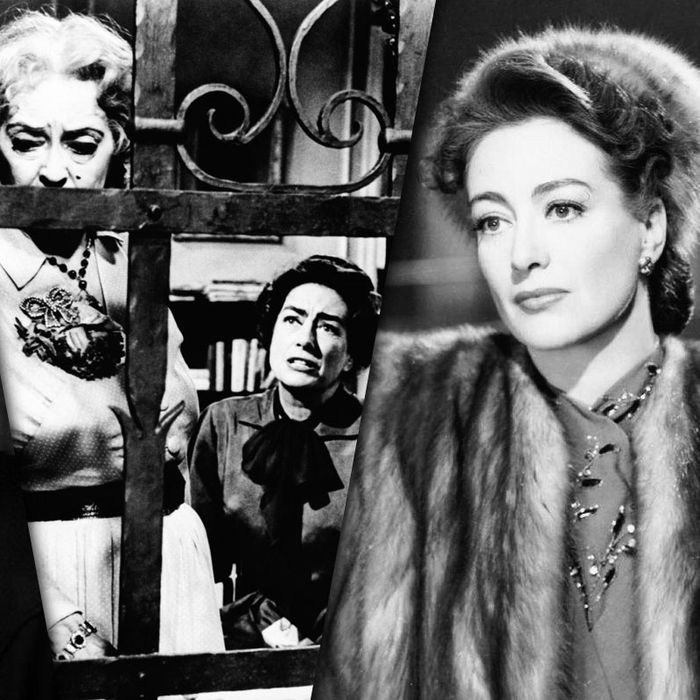 For many, Ryan Murphy's much-anticipated FX series Feud will be their first introduction to the legacies of classic Hollywood icons Bette Davis and Joan Crawford. Feud sets up these women as representing two very different acting traditions in Hollywood. Davis is the character actress who is uncomfortable with stardom, preferring to focus on her craft above all else. Crawford is a former glamour girl in her 50s whose looks have lost some of their luster. While this is true to a degree, the reality of who these women were is much more complicated, and there are several films that are worth watching, before diving into Feud, to get a fuller picture. There are films from their later careers, particularly, that I would love to recommend: Crawford's 1954 odd Western Johnny Guitar and Davis's 1970s TV films like Strangers: The Story of a Mother and Daughter, which pairs her with Gena Rowlands. But this list is for those who have only a passing knowledge of these actresses. Davis and Crawford were more than the camp spectacles that history has made them out to be, and these ten films prove why.
What Ever Happened to Baby Jane? (1962)
Feud uses the making of this 1962 Gothic horror masterpiece in order to interrogate a particularly vulnerable point in Crawford's and Davis's careers. They were over 50, not getting any work, and struggling to keep their personal lives together. Davis and Crawford play two warring sisters living in their Hollywood mansion, with their best years behind them. Crawford is the wheelchair-bound Blanche, who's lost the glamour her early career was defined by. But the film is undoubtedly Davis's show. She takes scenery-chewing to new heights as the demented, wounded Baby Jane who delights in torturing her poor sister. In his re-creations of scenes from the film, showrunner/director Ryan Murphy gets the camp of the film, but not quite the horror and pathos lurking beneath the surface.
The Women (1939)
The Women is a witty, hilarious, and engrossing comedy about the particular ways women wound each other. Men are frequently spoken of but never seen, which is remarkable on its own. Crawford plays the archetype of the cunning, unapologetic mistress who gloriously flaunts her affair in the face of the more dutiful wife, played by real-life professional rival Norma Shearer. The Women is packed with great comedic performances, particularly that of Rosalind Russell. But Crawford steals the film with equal parts wit and frank sensuality. The Women will make you forget about that terrible adaptation from a few years ago, starring Meg Ryan, ever happened.
Possessed (1931)
It's hard to pick just one film from Joan Crawford's early career, especially considering by the time Possessed was released, in 1931, she had already made more than 35 films. Notably, in the late 1920s, Crawford became the epitome of the modern, liberated woman. In films like 1928's Dancing Daughters and 1931's Dance, Fools, Dance, Crawford is a sight to behold. Beautiful and sensual, with an open smile, she is hard to recognize through the various transformations she made as her career continued. But the early film I want to call attention to is the third of her eight collaborations with Clark Gable: Possessed. Crawford is a factory girl who becomes a mistress in order to gain access to the finer things in life. It's films like this that undergird the hardworking, whip-smart working-woman persona Crawford has become known for on and off the screen.
Mildred Pierce (1945)
Mildred Pierce marks a turning point in Crawford's stardom. It's the only film to earn her an Academy Award for Best Actress. It's her comeback role after a sour ending at the studio she had cut her teeth at, MGM. In Mildred Pierce and every film after joining Warner Brothers, Crawford's roles became severe. Gone was the innocence and sly sensuality of her early years. In its stead Crawford, to quote biographer Bob Thomas, sought to destroy men, not entice them. This adaptation of James M. Cain's novel stars Crawford as the titular working single mother trying to provide for one of the most ungrateful, blood-boilingly annoying teenagers to ever be put on celluloid. Mildred Pierce is full of witty one-liners, emotionally charged fights, and great cinematography that highlights how well Crawford knew her angles. The film traffics in a theme that shaped her real life, too: how society bristles against ambitious women.
Sudden Fear (1952)
This 1952 noir starring Joan Crawford, Jack Palance, and my favorite B-movie bad girl, Gloria Grahame, gets a brief shoutout in Feud. Crawford plays Myra Hudson, a successful Broadway playwright who marries an actor beneath her stature, Lester Blaine (Palance). With a name like Lester Blaine and a face like his, of course this man is trouble, but it takes Myra a while to realize how ill-suited they are for one another. It's a stylish and spellbinding tale about the terror of letting the wrong man into your life (a theme that appears throughout Crawford's long career). Crawford received her third and final Oscar nomination for this role. It's easy to understand why, as she displays many of her best skills in Sudden Fear: an intimate relationship with the camera, understanding her angles, and the ability to communicate an immense amount of pain in a single glare.
The Letter (1940)
I like to say Bette Davis was Brando before Brando, but better. And it's her lead performance in this 1940 noir I think of when I say such things. Davis is known for being a highly neurotic screen presence — she wrings her hands, stomps across the screen, and punctuates her sentences with a flourish of her ever-present cigarette. But what makes Davis more than just an expert in bold performances are the quieter grace notes she gives her roles. Take, for example, the opening of The Letter. No dialogue. No close-ups. It's her body that tells the story, communicating all the anger and vengeance of a scorned woman. The Letter marks a high point in Davis's dedication to playing complex, prickly, at times even unlikable women without a hint of condescension. It also demonstrates how amazing Davis can be with a director who matches her talent and challenges her — in this case William Wyler. All three of the films they did together, including Jezebel and The Little Foxes, are engrossing, vibrant, and worth watching.
Now, Voyager (1942)
Feud suggests that Davis and Crawford were contemporaries, but that isn't quite true. Davis made her screen debut in 1931, and by that time, Crawford was well established in her career. Davis's true heyday as a star with box-office clout was from the late 1930s until mid-1940s, with Now, Voyager being the shining jewel of her time as Warner Bros.' queen. Now, Voyager is the greatest example of the subgenre where Davis, Crawford, and many classic Hollywood stars made their best work: the women's picture.
Davis plays Charlotte Vale, a Boston heiress besieged by depression, anxiety, and an exceedingly domineering mother. Davis was an actress who always shunned ostentatious glamour if she felt it didn't suit the character. She was willing to transform herself physically, but always retained an emotional truth and nuance that many other actors obsessed with the idea of physical transformation could learn from. This is the film I always recommend when people ask me where to start with Davis. It is one of her most moving and romantic roles. But I also find myself drawn to it for personal reasons: It's one of the few Hollywood films I feel that seems to understand how women deal with mental illness.
Deception (1946)
Deception pairs all the major players from Now, Voyager again — director Irving Rapper, Bette Davis, Claude Rains, and Paul Henreid. It's a completely different film — gloriously melodramatic, moody, dark, and full of double crosses. While not as beloved as Now, Voyager, I return to Deception quite often because it is just that fun to watch. One of the highlights is undoubtedly watching Claude Rains and Bette Davis going toe-to-toe. Rains is the highlight as the brash, controlling classical music maestro Alexander Hollenius. He becomes a looming presence, threatening to disrupt his former pupil/mistress Christine Radcliffe's (Davis) new life and marriage. Deception was the first time any of Davis's films lost money for Warner Bros. Despite that, it's one of the most thrilling films on this list due to its excellent craftsmanship and the chemistry of the cast.
In This Our Life (1942)
When I first saw In This Our Life many years ago, I was struck by its honesty about the ways white women use their status to harm the black community and get ahead. Today, the way the film handles race relations feels even more poignant. As James Baldwin wrote of the lead performance in The Devil Finds Work, Davis plays "a ruthlessly accurate (and much underrated) portrait of a southern girl." It's one of Davis's most unlikable, venomous performances, as her character nearly destroys the lives of many people, including a black chauffeur (Ernest Anderson) she seeks to frame for her crime. It's honest about racial dynamics between black and white people in ways Hollywood rarely is. None of this works without Davis committing to the black hole of morality that her character represents. There are no redeeming qualities to this woman — even her name, Stanley Timberlake, is terrible. The film's director, John Huston, once described the star thusly: "There is something elemental about Bette — a demon within her which threatens to break out and eat everybody, beginning with their ears." In This Our Life brutally demonstrates this quality with aplomb.
All About Eve
Undoubtedly, All About Eve is one of the best films of all time. Davis's comeback film nabbed her an Oscar nomination and should have been a win if it weren't for co-star Anne Baxter muscling her way into the category, splitting the vote in the process. The film is a masterwork of what Davis could do as an actress. As Broadway star Margo Channing, wrestling with turning 40, she's yearning, bold, hilarious, and utterly human. The Joseph L. Mankiewicz–helmed picture was nominated for 14 Academy Awards for good reason — this is cinema firing on all cylinders. It's packed with amazing performances with nary a false note by the deliciously sharp-tongued George Sanders, a cunning Baxter, and an early performance by Marilyn Monroe nailing the dumb-blonde archetype she would later become known for. It's endlessly quotable, producing venomous one-liners every few seconds. It's witty and emotionally realized. Its story of an older icon undone by a young up-and-comer with devious motives has been endlessly replicated but never surpassed. The same can be argued about Bette Davis herself.
All About Eve will return to the big screen nationwide on March 5 and March 8. Visit Fathom Events for more details on a screening near you.