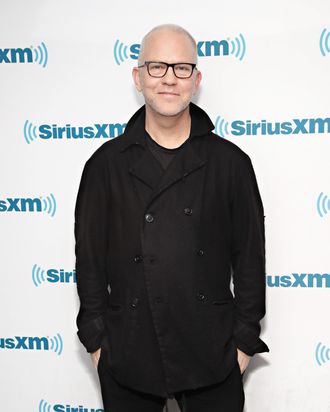 Photo: Cindy Ord/Getty Images for SiriusXM
Ryan Murphy is re-creating his love for Old Hollywood icons with his upcoming mini-series anthology Feud, starring Susan Sarandon as Bette Davis and Jessica Lange as Joan Crawford. The series follows the two on the set of Whatever Happened to Baby Jane?, where the pair had an infamously contentious relationship. For Murphy, the fixation on the screen legends comes from a place of love. And in the case of Davis, he was able to draw from a four-hour conversation he had with her when he was a young journalist. Murphy first corresponded with her when he was a kid, writing a letter to Davis because he was enchanted by her in The Letter. "She did write me back. And she wrote me a couple of times," Murphy told Gayle King at a luncheon panel discussion about Feud at the Rainbow Room in New York. "What I loved about her letters to me they were never like, xo, love. It would be like, Thanks for the letter. You're sweet. Bette Davis."
While he'd never met her in person during their correspondence, in the last month of her life, Davis's assistant contacted Murphy. "I don't know how much longer she's going to be with us, so why don't you come now," Murphy recalled the assistant saying. "I booked a plane ticket. It was the first time I had ever been to L.A., and she was very ill. She just had chemo." He remembered the meeting:

She buzzed me in with no hello or anything. So I go up the elevator and I open up the door, and she was at the very end of the hallway, dressed up. She wore a pillbox hat and was enveloped in this cumulus cloud of cigarette smoke. And so she took me in, and the first thing she said was, "Do you want to hold my Oscars?" To which I said "yes."

And then the 20 minutes turned into a four-hour conversation. She liked me, I think, because I chainsmoked with her. This was in the late '80s. I had a really wonderful time and I got to really talk to her a lot about her pain and her regretting what it was like to be a woman and feel that you were just getting started and to be told you were done. And a lot of that reportage that I couldn't use, because a lot of what she said was off the record, I put it in the show.

It was a real honor. It put me on a path, because she was so unusual and never bent to what people thought she should be. She just was who she was. And goddammit, she was proud of that. And I remember thinking, I'm going to live my life that way.

When Murphy was directing Sarandon and Lange on set, they recalled that he would sometimes do the voices of Bette and Joan to communicate what he was envisioning for a particular scene. "I loved these women, and I think it was instantly clear to them that I was doing it from a place of great affection," said Murphy. "I'd never imitated anybody while we were doing [People v. OJ]. I don't know why I felt that, but I just felt them. I felt their pain. I understood them. I had a familiarity with them."