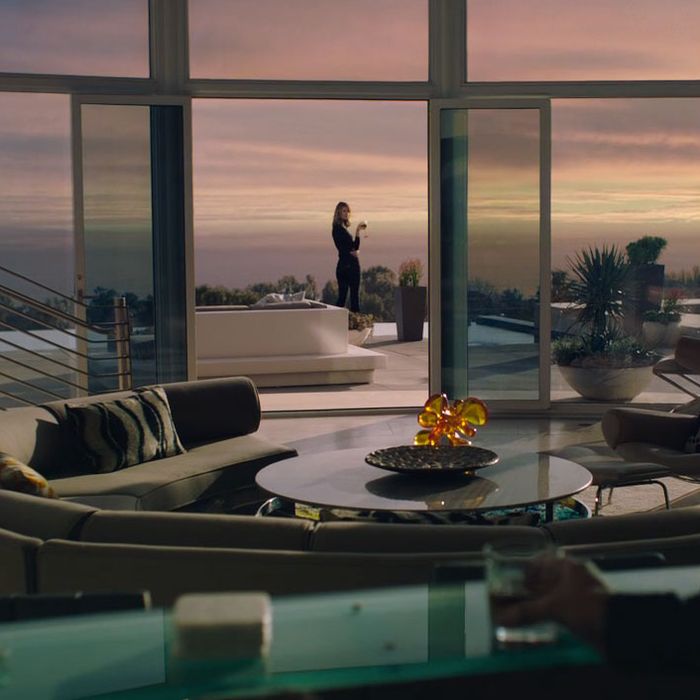 Laura Dern and a mind-blowing house in Big Little Lies.
Photo: HBO
Big Little Lies, the HBO limited series about messy rivalries between well-heeled Monterey moms, is the latest entry in a television genre that I call Beautiful People Behaving Badly by the Sea.
Admittedly, this is a niche genre. But in recent years, scripted TV has seen a handful of shows that fit under this dramatic beach umbrella, including Bloodline, the portrait of a prominent, slyly corrupt family in the Florida Keys; The Affair, whose extramarital entanglements unfold against the backdrop of Montauk; Dexter, whose serial killings and cover-ups take place in Miami; ABC's soapy Revenge, set in the Hamptons; and Graceland, the USA crime drama about federal agents conducting business out of a gorgeous California beachfront property.
In all of these shows, the sand and surf provide bucolic contrast to the sordid events that unfold in their narratives, including murder, adultery, drug activity, and worst of all, the ugly horror of elementary-school politics. Since the settings often include gorgeous beachfront or beach-adjacent properties, these shows also highlight the amount of privilege required to enjoy so much proximity to the ocean. Although we're drawn into the three most recent examples — Bloodline, The Affair, and Big Little Lies — by the characters, their relationships, and the tantalizing hints that a terrible crime will take place, we keep coming back for the escapism that comes from watching the tide rise and fall while attractive women and men contemplatively stare at the horizon.
Of the recent Beautiful People Behaving Badly by the Sea shows, Big Little Lies is the most absorbing example of the genre's potential, starting with how gorgeous it makes life in Monterey look. There is barely a frame in this mini-series that doesn't elicit a gasp, a jaw drop, or an immediate urge to start searching Priceline for bargains on coastal California hotels. Even everyday activities, like driving the kids to school, occur while sweeping views of the Pacific sprawl out in the distance.
Then there are the houses of Big Little Lies, which look like the products of a consummated union between a Nancy Meyers rom-com and a Pebble Beach version of How Stella Got Her Groove Back. Most could easily double as luxurious wedding-reception venues, thanks to their expansive decks and floor-to-ceiling glass windows that remind everyone (including those of us watching on HBO) that the Pacific Ocean is their backyard. Even the one mother who isn't wealthy, Shailene Woodley's Jane, lives in a cottage that, while more modest than her counterparts' homes, is still pretty darn cute. She may not have those ocean views, but she still has an adorable front porch located within walking distance of a beach that's perfect for early-morning angry jogs.
Like The Affair, Big Little Lies explores another common aspect of Beautiful People Behaving Badly by the Sea shows: It reveals the line that divides the ultrawealthy from regular folks. (Economically, Jane is the BLL equivalent of The Affair's Allison.) But to a degree far beyond that self-serious Showtime series, Big Little Lies scoffs at the amount of privilege these women and their families take for granted. These are people who literally live in glass houses and metaphorically throw stones at each other.
Again and again, director Jean-Marc Vallée purposefully stages unpleasant phone conversations or marital arguments on the beach or with the beach in the background, just beyond the glow of a private swimming pool or fire pit. As a result of that framing, every time Reese Witherspoon's Madeline goes on a tirade about a child's birthday party or the controversy swirling around a community production of Avenue Q, we want to scream, "Look outside, fool! You have everything. Why are you getting so bent out of shape about minor things?"
There's a moment in episode four when Madeline seems, at first, to understand her myopia. Her husband, Nathan (Adam Scott), finds her looking out the window while drinking a glass of wine and asks what she's doing. "I'm just staring at the sunset and thinking about how lucky we are to have that in our face every day," she says. Then Nathan responds, with a wryness cranked all the way up to 11: "That is not what you were thinking." Madeline doesn't respond, which tells you that he's totally right. She staring right into all that gleaming beauty … and fretting about her own problems.
Honestly, if Big Little Lies stays in that satirical lane for the entirety of its run, it will still be a satisfying piece of television. But it won't do that, because it also has empathy for its characters. The show doesn't exist solely to mock their entitlement. Some of the issues those characters face — particularly the disturbing abuse suffered by Celeste (Nicole Kidman) at the hands of her husband, Perry (Alexander Skarsgård) — are quite serious and could affect any woman, whether she lives in a stunning contemporary home with ocean views or not.
That's the idea that the Monterey setting underscores: No matter how much money you have, or how gorgeous your home and clothes are, you can still feel desperate, alone, as though you have nothing. Even if you come to a beach town convinced that it will save you, as Jane does, you will find that living in a place that looks like paradise doesn't equate to being in paradise. That's a theme that's been struck in countless works of literature, films, and, yes, TV shows, ranging from Lost to, more recently, the not-at-all tropical The Good Place. Every show about rich white people and their problems subtly, blatantly, or accidentally makes a similar point.
But Big Little Lies puts its glossy, Travel + Leisure imagery so aggressively in our faces that it delivers the same message in a more direct, playful, and affecting way. As the epitome of a Beautiful People Behaving Badly by the Sea show, it enables us to luxuriate in the amenities that a posh, oceanfront lifestyle can provide, but it also distinguishes itself as something greater. As the narrative moves forward, it hits pause on those pleasures, takes the glass of chardonnay out of our hands, and forces us to consider how devastating bad behavior can be when people try to control other people.