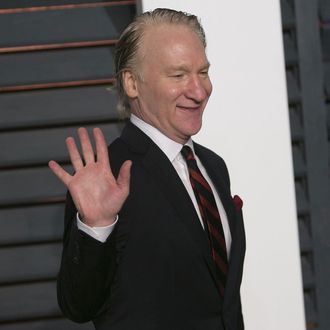 Bill Maher.
Photo: Adrian Sanchez-Gonzalez/AFP/Getty Images
Bill Maher is defending his controversial decision to host infamous alt-right troll Milo Yiannopoulos on his HBO show Real Time With Bill Maher this Friday. This news comes after another Real Time guest, Intercept founder Jeremy Scahill, dropped out of the show in protest of Yiannopoulos's presence, arguing that "he has ample venues to spew his hateful diatribes. There is no value in 'debating' him." Scahill also criticized Maher's views on Islam, which he claimed "veer into vitriol," but noted that he has "deep respect for Bill." In response to Scahill's comments, Maher released the following statement:
My comments on Islam have never veered into vitriol. Liberals will continue to lose elections as long as they follow the example of people like Mr. Scahill whose views veer into fantasy and away from bedrock liberal principles like equality of women, respect for minorities, separation of religion and state, and free speech. If Mr. Yiannopoulos is indeed the monster Scahill claims — and he might be — nothing could serve the liberal cause better than having him exposed on Friday night.
Real Time has booked MSNBC terrorism analyst Malcolm Nance to replace Scahill. Read Scahill's statement in full below.