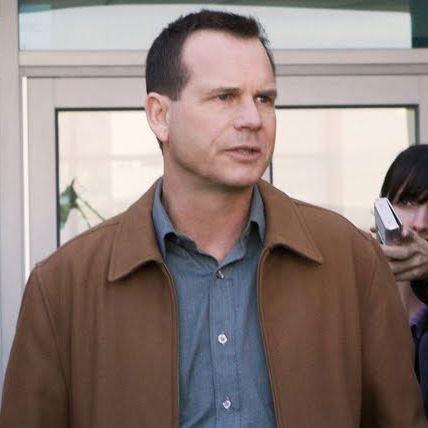 Bill Paxton (center) as Bill Hendrickson on Big Love.
Photo: HBO
In 93 roles over 42 years, Bill Paxton, who died this weekend at 61, was occasionally a leading man — but it was the small roles that defined his career. His kindly, everyman persona was behind his most memorable turns in beloved films, from Apollo 13 to Terminator. He was the moral center, the reliable next-door neighbor, always willing to lend a snowblower, the guy who might just give up his treasure hunt after hearing your love story, or tough out a UTI in outer space with no complaints, dammit.
It's these same qualities that made Bill Paxton an ideal leading man in his finest role: polygamist patriarch Bill Henrickson on HBO's Big Love. Henrickson was a harried suburban dad; he was middle-aged sexy, tighty-whities and all. He juggled phone calls on his commute, counseled his teen son about dating, and showed up at his daughters' dance recitals. He prayed without irony or desperation.
Big Love's premise revolved around Henrickson's attempts to bring polygamy out of the darkness and into the light. Exiled from a compound of fundamentalist Latter Day Saints, Henrickson forged his own faith community with three wives in three homes on a nondescript street in suburban Salt Lake City. He opened a Home Depot-esque superstore and set out to build a business empire. He lived his life in secret and waited until he and his family were so Wonder Bread and apple pie that, if exposed, no one could object.
Only someone regularly cast in supporting roles would know how to capture the essential tension of Bill Henrickson, a character who yearned to be out front but had to contain those urges for a greater good. Henrickson reassures his family that their way of life will one day be accepted — even embraced — by the Establishment, if only they keep working. It's the mantra of many in Hollywood whose IMDb credits lean bad guy, best friend, sidekick. On Big Love, Paxton's typecasting was subverted to great effect. Because we'd seen him so often in likable secondary roles, it was hard not to cheer him on. Henrickson's life struggle was Bill Paxton's career dilemma.
Paxton had one early standout film role that also prepared him for Big Love: 1998's A Simple Plan. Here, too, Paxton (as main character, Hank) starts out as the story's moral center: an earnest, hardworking good guy who's just trying to get ahead. He finds $4 million in cash among the wreckage of a plane crash. Hank wants to return the money, but his brother, wife, and a friend convince him to keep it. This is their shot. As Hank warms to the idea of the money and the freedom it will buy him from workaday blandness, he takes bigger and more consequential risks. Throughout, he is conflicted: Is this money worth the cost? Paxton's approach to Hank is nuanced and gripping: He's a good man who knows full well he's becoming a terrible person.
Similarly, on Big Love, latter-seasons Bill Henrickson grew impatient waiting for the world to come around to his vision. He risked exposure. He ran for public office. He got in gunfights. He grew paranoid and controlling, losing his grip on his family and becoming unrecognizable to the people who loved him. By the end of the series, he is murdered by a rival and lives on as a martyr for his faith. Still, the audience stuck by Henrickson throughout the series because Paxton never totally shed his inherent good-guyness. His soothing familiarity, earned by his career and edified on Big Love, embedded in viewers a sense of fondness and trust.
The outpouring of love for Bill Paxton after his untimely death comes from a Hollywood community that recognizes his talent, but more significantly, honors his steadfastness. He got work, but he never really got famous. On Big Love, however, there could be no other leading man.