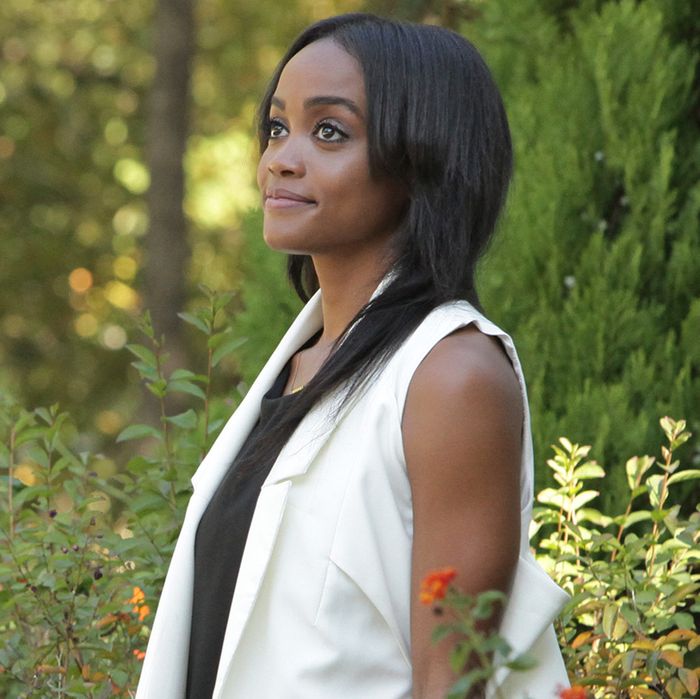 Rachel Lindsay, the next Bachelorette.
Photo: Bill Matlock/ABC
To some members of Bachelor Nation, the timing of the announcement of Rachel Lindsay's casting as the 13th Bachelorette was bigger than the announcement itself: The current season isn't over yet, meaning the show will continue to pretend she's a contender for Nick Viall's heart for the next couple weeks. But declaring Lindsay as the Bachelorette earlier than usual makes a lot of sense. She's a fan favorite. She's a lawyer. (She passed the bar on the first try!) She's age-appropriate; Lindsay is 31 years old, older than the other 23-year-olds she shared the Bachelor's affections with this season. And of course, Rachel's casting as the romantic lead for the next iteration of the popular franchise is historic: Lindsay is a black woman.
As a recapper of the Bachelor franchise, I've noticed and commented on the overwhelming whiteness of the reality dating show. Only two other leads have been people of color. Juan Pablo Galavis of season 18 was the only Bachelor of color; JoJo Fletcher, the most recent Bachelorette, has an Iranian mother, but her ethnicity was rarely discussed on the show. Lindsay will be the first black lead of either The Bachelor or The Bachelorette.
ABC has led the charge in recent years for more complex portrayals for black women with shows like Black-ish and the Shonda Rhimes–created series Scandal and How to Get Away With Murder. But all the while, The Bachelorette has held court on the network like a relic from a less diverse era. Its lack of diversity is due in part to the fact that the Bachelorette has always been chosen from the cast of the preceding season of The Bachelor, itself not a sterling example of racial inclusion.
There have only been 43 black contestants on The Bachelor and The Bachelorette, ever. Assuming every season starts with 30 contestants, this equates to 4.3 percent of all contestants. African-American contestants start out woefully underrepresented and they don't last long. More than half of the black Bachelor and Bachelorette contestants (59 percent) leave within the first two weeks.
The current, 21st season of The Bachelor has drawn attention for having eight black women and two Asian-American women — Viall's dating pool is responsible for 18.6 percent of black contestants in Bachelor(ette) history. If there were ever a season most likely to produce a Bachelorette of color, it would be this one. Signs were promising when Lindsay caught Viall's eye in the first episode and was given the First Impression rose, which is typically an indicator that the contestant will make it far on the show.
Recapping The Bachelor for Vulture, I've always found it more than easy to find fodder for jokes. But throughout this current season, I have sincerely been caught off guard each week by Rachel's success as a clear front-runner. Right from week one, when Rachel was given the rose because of her personality, her intellect, and her beauty, it was disarming to me, not only as a Bachelor fan, but as a black woman. In that moment I realized I was so starved for representation that I was crying on my couch, unable even to snark.
In a post-Lemonade, post–Michelle Obama era, casting a black woman as the Bachelorette may seem like a frivolous victory. The fact is, though, the struggle for representation for black women is different than it is for white women. Feminist movements led by white women have tried to create distance between white women and the roles of girlfriend, wife, mother. Black women, meanwhile, have tried to reclaim these roles and, in turn, the full spectrum of womanhood. This is because of how routinely black women are criticized in terms of their womanhood. Black women are angry and unladylike. Their bodies are vulgar and lack grace. To this day, Serena Williams's body is mocked in comparison to her lithe peers. Her outbursts on the court, her critics say, are evidence of inherent unsportsmanlike behavior.
Beyoncé's last two albums, Beyoncé and Lemonade, are love letters to her femininity. In her lyrics, she fires back at critics who ridiculed her absence from music to focus on motherhood and her decision to take her husband's last name: "I took some time to live my life / But don't think I'm just his little wife / Don't get it twisted." Last year's Lemonade tells the story of a woman working through her partner's infidelity and finding resolution in her family. Beyoncé says "I love you more than this job / Please don't work for me." She is stating explicitly that her relationship is more important than her career.
These brilliant albums, when taken as a whole, are Beyoncé's statement on the choices black women make to balance career, identity, and romance. Beyoncé asserts a black woman can be both sexy and empowered; Lemonade demands that a black woman deserves to be in a fulfilling relationship with a happy, resolute ending. Celebrating black womanhood in the context of marriage and motherhood might seem reductive to some, but because they've so often been denied those roles in pop culture, it's in fact, revolutionary.
Another black woman with a public love story I've found inspiring is Michelle Obama, who also faced her fair share of criticism in the public eye. She was attacked for her appearance by right-wing critics who compared her to animals or claimed she wasn't a "real woman." Criticism even came from feminists on the left who thought one of the most professionally accomplished First Ladies leaving her career and focusing on a "motherly" project, childhood obesity, wasn't "progressive" enough. Despite all this, she left the White House with a 66 percent approval rating. Her husband thanked her in his farewell address: "Michelle LaVaughn Robinson, girl of the South Side — for the past 25 years, you have not only been my wife, the mother of my children, you have been my best friend." With tears in his eyes, he acknowledged and loved all aspects of her womanhood and her connection to Chicago's South Side, a historically black neighborhood, and showed the world what deep, enduring black love could look like.
It might seem a little lofty to invoke the name of the first black First Lady and the world's greatest living performer when talking about the first black Bachelorette. But just as the public often looks to the First Family or pop-culture icons as fairy-tale stand-ins, The Bachelor franchise often becomes a substitute for those same types of larger-than-life love stories. Vulture's Kathryn VanArendonk wrote in a piece recently that The Bachelor franchise is our most-enduring modern romantic comedy. The tropes of grand romance are integral to the series: "There's an ebullient embrace, we get the delightful romance trope of people finally experiencing the relief of declared love, there are soaring strings, and it all takes place in an exotic location. The couple rides off into the sunset, and next season we get to watch love blossom between new lovers once again."
Sometimes we deserve a fairy tale, a cotton-candy romance to go with our lemonade. Seeing a black woman as the woman pursued, riding off into the sunset, would do so much to diversify the narratives of black romance. It's time for black love to be encapsulated in history, in all its forms. When you see yourself in stories, you feel valued and elevated. As a black woman writing about television, I'm often asked to write about people who don't look like me. Seeing a black woman try to find love and be celebrated as a paragon of beauty and womanhood would not only be heartwarming. It might be enough to make me believe in love stories and turn down the snark once and for all.