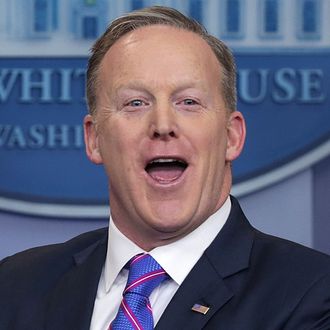 Photo: Alex Wong/Getty Images
White House Press Secretary Sean Spicer has been hazed pretty hard since taking over his role in Donald Trump's administration. His combative, impatient behavior with the media makes him seem prone to tantrums, which resulted in the damning send-up of him on Saturday Night Live by Melissa McCarthy, and now he's got a book publisher relentlessly trolling him on Twitter. Lately, things have escalated toward the absurd. Below, a selection of the book publisher's comments:
Melville House is known for being feisty online. In 2014, Zeljka Marosevic was one of the people running the company's official Twitter, and she told Believer magazine in an interview that "It's a corporate account but I felt like I was being encouraged to be myself on it." When asked about whether or not she ever feels compelled to censor herself, Marosevic replied, "We pick our fights, and I don't think we're ever mean or spiteful. Sometimes I pause before I send out a tweet full of expletives and then think 'what the hell' because I can't resist the retweets." Marosevic may or may not still be at the controls of Melville's Twitter, but it's clear that the publisher has an established freewheeling history on Twitter. Beware the dreaded Dippin' Dots Photoshop, all ye that would offend them.