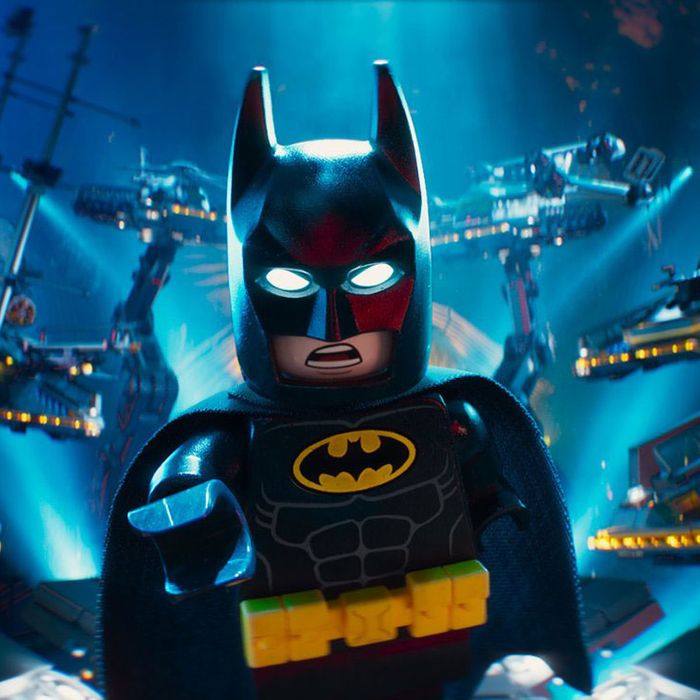 The Lego Batman Movie.
Photo: Courtesy of Warner Bros. Picture
The Big Story
This weekend's main box-office narrative was always going to be the battle between two very different franchises: Warner Bros.' Lego Batman Movie, and Universal's Fifty Shades Darker. But despite those films leading the tally, the happiest campers might be over at Lionsgate, which saw John Wick: Chapter 2 hugely improve on its first installment.
The strict order of the three big releases had Lego Batman at No. 1 with $55.6 million, Fifty Shades at No. 2 with $46.8 million, and John Wick at No. 3 with $30.0 million. Both Lego and Fifty Shades saw marked declines from their predecessors, which debuted at $69.1 million and $85.2 million, respectively. But the opening weekend of Fifty Shades of Grey included Valentine's Day on Saturday and led to a heavily front-loaded box-office take, whereas Fifty Shades Darker still has that holiday to look forward to this Tuesday.
Meanwhile, while Lego Batman took the top spot, it actually came in lower than the typically cautious studio expectations, which were set at $60 million. Box Office Mojo actually predicted it to beat the first Lego Movie and make $76 million, a number that it missed by a good $20 million. At just a $55 million budget, and with another $100 million overseas, Fifty Shades Darker is already a healthy performer, with more to come as Valentine's Day and Presidents' Day Weekend approach; at an $80 million budget, and with good word of mouth and reviews, The Lego Batman Movie should still turn out to be very solid, but its slower-than-expected start means that once again, DC can't quite seem to generate an unmitigated hit.
As for John Wick: Chapter 2, the sequel to the surprise 2014 hit doubled the original's opening weekend, turning $15 million into $30 million and proving that its cult status is the real deal. The first John Wick was made for just $20 million, and assuming that the budget of the second remained in that neighborhood, this should provide a nice return on investment and set the stage nicely for the third episode of the franchise.
What Else Happened?
M. Night Shyamalan's three-week reign of terror over the box office finally ended, with Split falling below the three newcomers to fourth place, with $9.3 million. Trailing behind it were a mix of Oscar contenders and holdovers, with Hidden Figures, A Dog's Purpose, Rings, La La Land, and Lion rounding out the only real moneymakers of the weekend.
Hidden Figures in particular continues to impress, with its $8 million gross increasing its lead over La La Land as the highest-grossing Best Picture nominee. But Lion in particular appears to have significant momentum, earning more money this week than it did last week, even though it shed theaters. Its total currently stands at $30 million, making it no threat to Hidden Figures or La La Land but a nice release nonetheless for the Weinsteins.