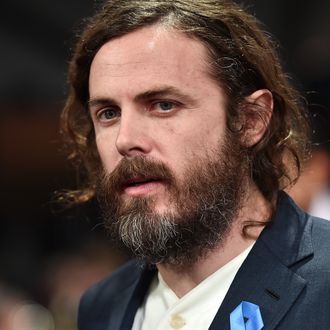 Casey Affleck at the Independent Spirit Awards.
Photo: Alberto E. Rodriguez/Getty Images
Like nearly every other actor during the 2017 award season, Casey Affleck has gotten in his share of jabs at President Trump. Hell, during his acceptance speech at last night's Independent Spirit Awards he even went so far as to say, "The policies of this administration are abhorrent and they won't last. They're really un-American." Unlike many of his fellow celebrated colleagues, however, Affleck's production company also donated to the president's transition team — a fact that caught even Affleck off guard, according to BuzzFeed News.
When confronted by BuzzFeed with the federal filings that included a $5,000 donation from Affleck/Middleton Project to the $6.5 million Trump for America fund, Affleck responded quickly with his own statement. "I am appalled that a donation may have been made in my company's name by someone I work with," said Affleck's statement. "I had no knowledge of it, was never asked, and never would have authorized it."
The "Middleton" half of the production company, John Powers Middleton, is a producer who is a known GOP supporter — in the past he personally donated over $220,000 to a pro-Trump super-pac. Considering Affleck claims that the current administration is "antithetical to everything I believe in," that might make future producer relations complicated. The Affleck/Middleton Project financed Manchester by the Sea and is slated to back several other upcoming features, including Far Bright Star, which Affleck is set to direct and will star Joaquin Phoenix.