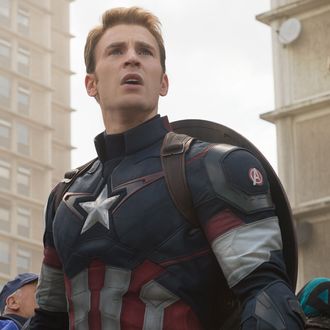 Photo: Jay Maidment/Marvel
Not all heroes wear capes. Chris Evans, however, is a hero who sometimes does wear a cape, because he's played Captain America a few times now. The actor did a bit of real-life heroism when he called out David Duke online. When Duke, America's leading villain — he's a white nationalist, Holocaust denier, and former Imperial Wizard of the Ku Klux Klan — tweeted his support of the recently confirmed Attorney General Jeff Sessions, a certain hunky Hollywood Chris stepped in. Behold: Chris Evans, wearing America's heart on his sleeve.
Like most villains, Duke was persistent with his alternative facts. He wasn't going down without a fight.
Captain America, however, wasn't to be dissuaded by that low-level reverse psychology.
America is saved! Not really, but with Obama on vacay, let's cling to the little victories.