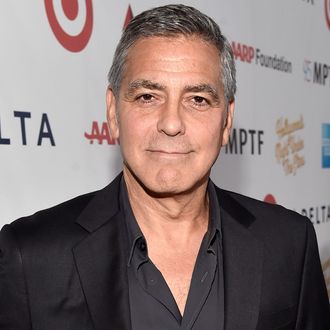 Photo: Alberto E. Rodriguez/Getty Images for MPTF
Despite President Donald Trump and his trusty chief strategist Steve Bannon continuously criticizing the so-called "Hollywood elitism" plaguing the country, George Clooney is here to remind you that these two gentlemen, in fact, have very strong and heavily documented ties to the Hollywood community. "Donald Trump has 22 acting credits," Clooney said in a new interview with Canal+. "He collects $120,000 a year in his Screen Actors Guild pension fund. He is a Hollywood elitist." Trump has indeed had numerous acting roles over the years — some of his most notable being his gig hosting The Apprentice and his cameos in Home Alone 2, The Nanny, and The Fresh Prince of Bel Air — and per one of Trump's financial disclosure forms filed in 2015, he had $110,228 in a Screen Actors Guild pension fund. Regarding Bannon, Clooney was quick to bring up his numerous unsuccessful attempts to break into the industry.

"Steve Bannon is a failed film writer and director," Clooney explained. "That's the truth, that's what he's done. He wrote a Shakespearean rap musical about the L.A. riots that he couldn't get made. He made a lot of money off of Seinfeld. He's elitist Hollywood, I mean, that's the reality." (Bannon purchased a share of the royalties of the seminal sitcom during its heyday, and continues to collect rerun royalties to this day.) But enough about the duo's glaring hypocritical behavior for a moment. George, if you have any more details about that failed rap musical, drop us a line.