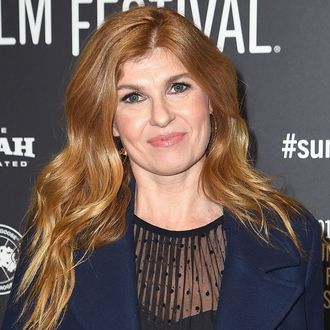 What other casting secrets does that hair hold?
Photo: Nicholas Hunt/Getty Images for Sundance Film Festival
After last night's shocking episode, and all the emotions that followed, Connie Britton and her hair are leaving Nashville and starting off on new projects. Which projects? Well, we'll find all that out in time — and we have a few ideas if you're still looking, Connie — but today, we got the first hint of Britton's post-Nash path. The actress has joined the cast of Nicole Holofcener's Netflix movie The Land of Steady Habits, adapted from the 2014 Ted Thompson novel of the same name, which also stars Ben Mendelsohn, Edie Falco, and Thomas Mann. Per The Hollywood Reporter, Britton will play "a divorcee who develops a connection with Mendelsohn's character, first meeting him in a strip club." Okay, but will she be delivering her lines while munching on crudites?