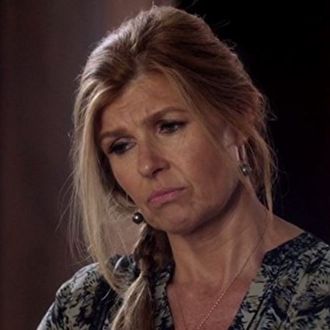 The formerly unsinkable Rayna James.
Photo: CMT
Spoilers ahead for Thursday's episode of Nashville.
The ballad of Rayna James, once thought inextinguishable by earthly means, has wailed its last plaintive note. On Thursday's episode of Nashville, the country crooner bit the dust, dying from complications of her car crash injuries. But while Connie Britton and Connie Britton's hair may be walking away from the drama halfway through its first season on CMT, she'd never leave fans high, dry, and without consolation. Britton wrote a farewell coda on Instagram, thanking her Nashville colleagues and using that Tammy Taylor quiet certainty to assure Nashville lovers that life will go on (just not Rayna's). "Rayna lived for you. And, from the depths of my heart, I thank you, for her and for me. It has been an honor to be a part of that creation. And as I know she would want it, the show must, and will go on. Long live Rayna Jaymes," she wrote.
Britton expanded on her decision to leave Nashville in an exit interview with The Hollywood Reporter. She explained that the departure was her choice, though it was showrunner Marshall Herskovitz who crafted a story that killed Rayna off in the middle of the season.
He's lovely and worked diligently to try to make this feel like a valid departure for this character. I said at one point, "I could stay on!" I left that door open and I don't know in what capacity, if ever, that could really happen. Marshall was trying to be really respectful of me and I was deferring to what they were trying to do for the story. To some degree, the show must go on.
She also admitted that she would have preferred a less lethal send-off.
I actually said, "Is there a way to do this where she doesn't die?" But we thought about it and Callie, too, and we realized that Rayna would never leave her children or Deacon. So there really wasn't any other alternative. Trust me, if there had been that would have been my preference!
As for whether Britton's Nashville love will outlast her tenure on the show, well … it's certainly not shrinking any. When asked if she would still tune in for the croonin', Britton revealed, "I'm not very good at watching it now!" Surely she'll find some other way to bide her time.