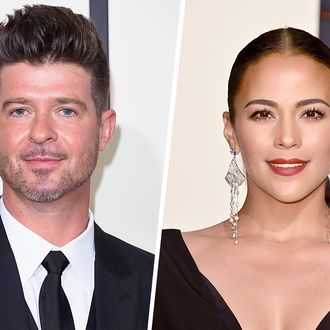 Paula Patton and Robin Thicke.
Photo: Getty Images
The police were called last week when a regular custody hand-off between Paula Patton, Robin Thicke, and a court-appointed monitor got messy. Us Weekly has anonymous sources in both camps, with Thicke's person reporting that Patton was an hour late to drop off their son, Julian, 6, to the court-appointed monitor who would then hand off the child to Thicke. According to the source, she then refused to hand over Julian to the monitor. Meanwhile, a source in Patton's camp alleges that Thicke broke the restraining order Patton has against him, and that Julian didn't want to go with his father and asked his mom to call 911. Patton and her son had left by the time police arrived.
Most recently, the Los Angeles Department of Child and Family Services began investigating Thicke over allegations of child abuse. Patton also filed for a temporary domestic-violence restraining order in late January, alleging that in addition to at least one event of physical abuse during their marriage, Thicke began banging on Patton's door when she wouldn't open the door to hand off their son for a scheduled visit.
Thicke and Patton's divorce was finalized in 2015.