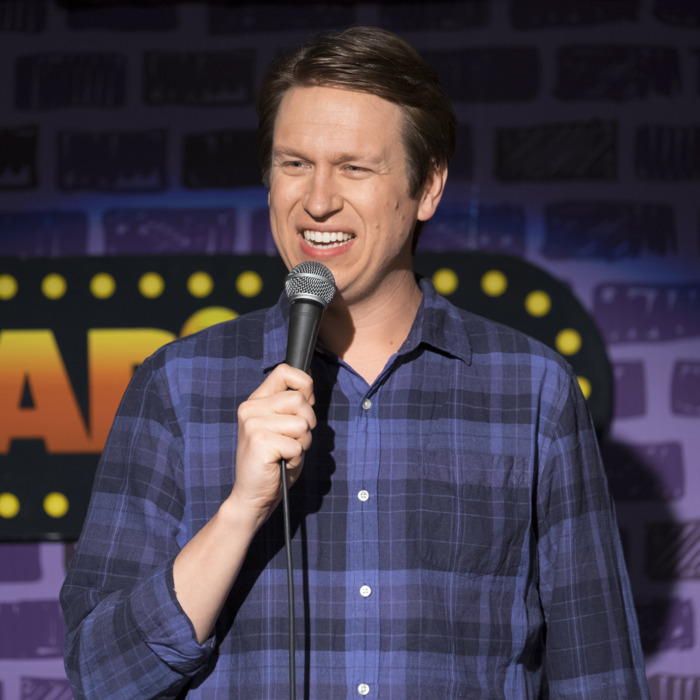 Do we really need another TV show starring a male stand-up comedian living in New York?
This is a valid question, and one to which I will respond the same way I respond to any television-related query that begins with the words, "Do we really need another …?" The answer is: Maybe, if it's well done and feels like something fresh.
Crashing, the new HBO series that stars comic Pete Holmes as a slightly modified version of himself, is more than halfway there on both counts. It feels like something conceptually different because it follows an aspiring comedian as he couch-hops — hence the name Crashing — from one fellow funny person's apartment to another. While its early episodes are still working through a few kinks, it's engaging enough to belong in the well-done category, too.
As is the case on most comedies built by and around their stars, Crashing stands out in large part because of Holmes, whose alternate-reality Pete upends many of the stereotypes some may associate with the wise-ass cellar dwellers attempting to crack up the two-drink-minimum crowd.
Crashing-Pete is religious and openly expresses his appreciation of Christian rock bands like Jars of Clay. He's not at all into drugs — he can barely drink wine without wincing — and his affable awkwardness looms so large that he nearly bonks his head on the frame of every doorway he enters. But the most significant thing about Pete is that he radiates niceness, even when life has just kicked him to the curb and straight down the sewer drain. Unlike, say, Louis C.K.'s Louie, who wears his world weariness on his rumpled T-shirt sleeve, Pete's a walking combo platter of naïveté and decency. If it were possible to play matchmaker for two fictional New York–based television characters, I would love to set him up on a blind date with Kimmy Schmidt. They'd get each other, I think.
Pete could actually use the romantic assist. As established in the first episode, his marriage to Jess (Lauren Lapkus of, among other things, Orange Is the New Black) is coming to an end, mostly because she's found another man, but also because she's tired of supporting Pete's seemingly delusional dream of making a living as a stand-up. The split — kick-started, in one of the show's more cliché moments, when Pete walks in on Jess mid-tryst — is what pushes Pete more aggressively into the Manhattan comic scene and onto the sofas of pros like Artie Lange, T.J. Miller, and Sarah Silverman.
Holmes may have created Crashing, but in its affection for joke tellers and grown men still grappling with adulthood, the fingerprints of Judd Apatow — an executive producer, director of the first episode, and co-writer, with Holmes, of the third — are everywhere. In fact, what works best and worst about this series syncs up exactly with the strengths and weaknesses of Funny People, the 2009 Apatow movie about a cancer-stricken comic, played by Adam Sandler, his apprentice (Seth Rogen), and the former fiancée (Leslie Mann) that Sandler's comedian turned movie star never stopped loving.
Both that film and this series are at their best when immersed in the unforgiving world of comedy and less interesting when they shift their focus to romantic relationships. Half of the first six Crashing episodes — there will be eight total — devote too much time to picking through the broken shards of the relationship between Pete and Jess. Until episode five, in which Pete and his nearly former wife pretend to still be together for the sake of his parents, Jess comes across as the standard practical, nagging, humorless female who doesn't understand Pete's dreams. That fifth episode finally gives the character, and the relationship, some more nuanced shading, but the role still seems like a missed opportunity to put Lapkus, a comedian in her own right, to better use.
Crashing is terrific, though, when it reveals the trade secrets and pride-swallowing realities of trying to become the next Jerry Seinfeld, Chris Rock, or, hell, even just a guy who might make a couple of bucks off some funny observations about the Dollar Store. ("What do you think the employee discount is at the Dollar Store?" Holmes quips during one of his sets at the Grisly Pear in the West Village. "Do you think it's just: Take it?")
So much television focuses on people who have already succeeded to some degree at their craft, but Crashing revels in showing us the grunt work. In episode four, Pete becomes a barker, one of those flyer distributors you've probably brushed by on Third Street a million times while completely ignoring their attempts to convince you to check out an open-mic night. As it turns out, that whole scene is an ultra-competitive, leaflet-distributor-eat-leaflet-distributor world.
In the sixth episode, Pete jumps at the opportunity to learn about becoming a warm-up — one of those hype men or women who pumps up the crowd at TV tapings — but runs into problems when the guy who already has that job on Rachael Ray's show (longtime comic Allan Havey, who also played Lou Avery on Mad Men) accuses Pete of trying to steal his material.
"Nobody owns, 'Who's from far away?'" Pete respectfully argues. "Nobody owns 'Any birthdays here?'"
The show and Holmes are at their funniest and most vibrant in these sorts of moments, in part because they demonstrate how far Pete is willing to go for his art, but also because they show that, as ugly as comedy can get, there are also established laugh getters like Silverman, Miller, or Lang who are willing to perform random acts of kindness for funny up-and-comers who clearly need a break and, if possible, a bed for the night.
Pete may have lost a home and a spouse. But on Crashing, he's gained his own comedy family. And, also, a hell of a lot of flyers to hand out at the corner of Third and MacDougal.