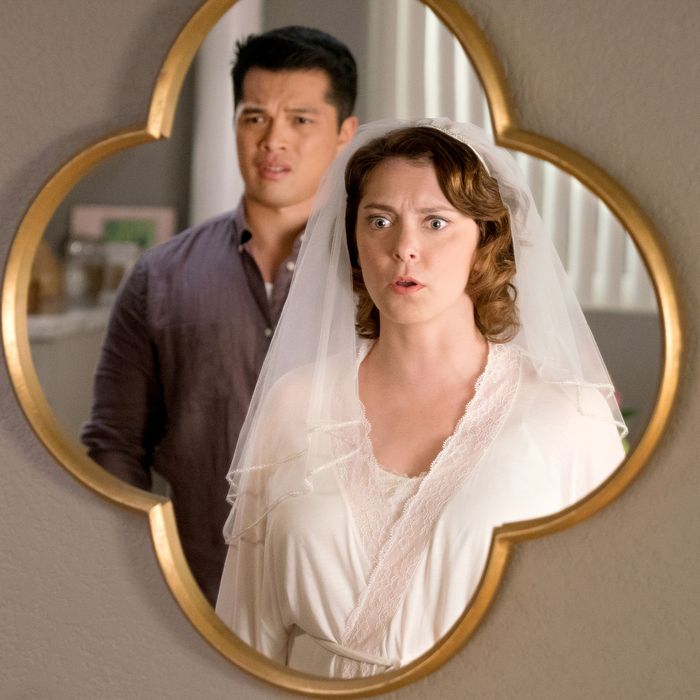 Vincent Rodriguez III as Josh, Rachel Bloom as Rebecca.
Photo: Michael Desmond/The CW
Crazy Ex-Girlfriend has pulled off some mighty tricks this season, from delicately off-boarding one main character and bringing on another, to completely fragmenting and then rebuilding its female friendships. But even I was taken aback at its ability to close out with a fully developed, Lost-style twist — one that it had been telegraphing all season long via the theme song, no less.
Before she resumed her childhood obsession with Josh, Rebecca was just a girl in love with a different man: Robert, her law-school professor. And when he decided not to leave his wife for her, she was held responsible for her actions — namely, pulling a straight-up Left Eye and setting fire to his house, which cost her a place at Harvard Law and landed her in a mental hospital. ("She sings to herself all day," one nurse tells the other, in a gut-punch moment.) Turns out she's less certifiably cute than she is … well, certifiable.
Needless to say, this revelation casts the Rebecca of the pilot in an entirely different light, one that is decidedly less nuanced. Putting her meds down the disposal when she arrived in West Covina may have made the world a sunnier place, but it also put her life and the lives of everyone around her at risk. When Josh leaves her at the altar, Rebecca comes within a hair's breadth of committing suicide.
It's a bold move for a show to reveal its lead, especially a female lead, as even worse and crazier than you thought — and that's really saying something, because the two previous episodes saw Rebecca making out with her boss despite being engaged and having a weird, co-dependent relationship with her UPS guy. The feeling at the end of this finale reminded me of first watching the "lily of the valley" reveal in Breaking Bad, where you find a new layer under what you thought a character was, or could be. That's heavy stuff for a musical comedy, but it's also the kind of risk that makes Crazy Ex-Girlfriend feel so immediate and fresh.
I'm perhaps less enthusiastic about the daddy-issues justification for Rebecca's actions, a strand of DNA that the show also shares with Lost. Silas Bunch is unquestionably a jerk: He's always been a lazy non-presence in Rebecca's life, and Dr. Akopian is right to be galled by him hitting her up for cash. But compared to Naomi, who displays so many varied shades of both alienation and support in this episode alone, Silas is as flat and one-dimensional as a cartoon villain. He seems like a needed justification to keep Rebecca on the right side of likability, instead of the kind of emotionally honest screwup that the show is usually so superlative in crafting. Why is he the way he is? He's a scapegoat. We'll never know.
As for Josh, I mentioned a few episodes back that his newfound religiosity might cause some friction with Rebecca, but even I was taken aback at where that ended up. Trying to fight his girl-craziness by becoming a celibate priest feels almost as desperate a move as the engagement, and I'll be curious to see if the show really embraces it (as it did Greg's alcoholism story line), or ends up dropping it.
Josh will be particularly hard-pressed to remain above it all, because this episode couldn't be clearer about the show's direction for season three: What will happen to Rebecca and Paula when the diabolical energy they once put into creating a Hollywood ending gets channeled into the much darker occupation of revenge? Their System of a Down–esque headbanger about walking down the aisle, which seemed like a fun goof on the first viewing, is far more chilling on a rewatch. Real rage is hiding beneath the surface, and you know what they say about women scorned. Or, as Paula says, "I will take his husky limbs into my hands and I will RIP THEM APART!"
What I love most about the episode's concluding moments is that they also telegraph the season's biggest themes about female friendship. Rebecca lives in a dystopia, but it's also a friendtopia, thanks to Paula, Valencia, and Heather. Each of these women was once an unlikely ally, and now they're lined up alongside her as she tells her shitty dad to go to hell and plots her revenge. It's not cute or adorable. It's big, messy, and uncomfortable. It's crazy, just a little bit.
Closing Thoughts
• Despite all the, ahem, buildup, there was sadly no "Period Sex" to be had in this finale. Instead, Rachel Bloom released it as a YouTube video.
• This episode is a gold mine for lovers of CXG leitmotifs. Besides Rebecca's big oceanfront number, which reprises "You Stupid Bitch," "The Villain in My Own Story," "I Love My Daughter," and "We'll Never Have Problems Again," there are also appearances by "Thought Bubbles" (when Josh puts on his suit in the mirror), "One Indescribable Instant" (during the pre-wedding cocktail hour), and "Love Kernels" (when Rebecca hugs her dad at the rehearsal dinner).
• I really love that Trent didn't disrupt the wedding in the traditional "does anyone object" way. (Same goes for Heather being the one who screamed.) One of the best lines was also a play on an old convention: When Trent told Josh, "It took me a little while to find a big enough 'Top Secret' stamp at the craft store."
• There's so much to get done in this episode that there isn't quite enough time for a full Darryl and WhiJo plot, but it looks like they're gonna be in conflict over Darryl's desire to have another kid.
• We finally get to meet Hector's mom! And Hector gets a great moment talking about her ensemble: "Burgundy A-line, very tasteful. She's a winter … a little snowflake."
• My favorite line of the episode goes to Rebecca's mom: "What about my mother-daughter dance? You know how fast I pick up choreo."