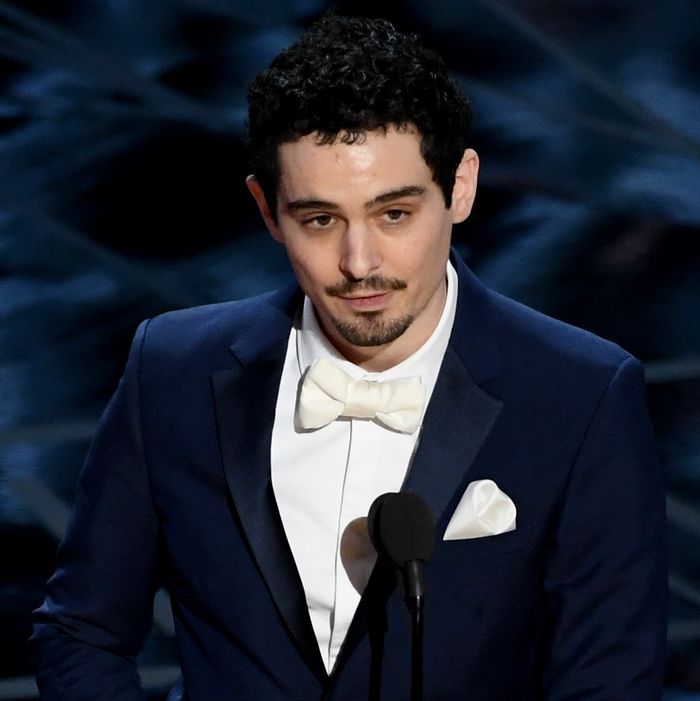 Damien Chazelle accepting his Oscar.
Photo: Kevin Winter/Getty Images
When Damien Chazelle won Best Director for La La Land, he didn't just join the pantheon of filmmakers raised into history by the grace of Oscar; he also made history. At 32 years and one month old, he's the youngest-ever winner of that award, beating out Norman Taurog, who as we all know was 32 years and 260 days old when he won for Skippy in 1931. While younger directors have been nominated, including big names like Orson Welles (26, Citizen Kane), George Lucas (29, American Graffiti), and Steven Spielberg (31, Close Encounters of the Third Kind), Chazelle went all the way, and for that he'll be an answer at trivia nights for years to come.
Beyond the sheer fact of his winning, though, Chazelle also faces a new reality. So far, the director has made three movies: Guy and Madeline on a Park Bench, Whiplash, and La La Land. The first was a micro-budget jazz musical begun while he was still an undergraduate, paid for with funds raised from donations and family; the second didn't get financed until Chazelle made a short as a proof of concept; and the third, now the winner of six Academy Awards*, met with rejection from every corner of Hollywood before finding a home at Lionsgate.
That era of his career is over — or at least about to change. From here on, Chazelle will have the kind of freedom that most directors only dream of, powered by his Oscar and La La Land's still-growing $369 million worldwide gross. While that's far from a blank creative check in today's superhero-obsessed Hollywood landscape, it's a remarkable degree of power (and pressure) for an artist still in his early 30s. And while Chazelle's next project, a Neil Armstrong biopic called First Man — from a script by Spotlight-scribe Josh Singer, making this Chazelle's first directorial effort he didn't also write — is already set up, it's still worth asking where he goes from here.
Fortunately, there's some precedent that we can study; knowing how much of a film-history buff Chazelle is, he likely already knows this stuff. Since 1967, the year that marked the advent of New Hollywood, there have been six winners of Best Director who had yet to turn 40 years old: Mike Nichols (36, The Graduate, 1968), William Friedkin (36, The French Connection, 1972), Francis Ford Coppola (36, The Godfather Part II, 1975), Kevin Costner (36, Dances with Wolves, 1991), Sam Mendes (34, American Beauty, 2000), Steven Soderbergh (38, Traffic, 2001), and Tom Hooper, (38, The King's Speech, 2011). Looking at their collective careers, there are a few lessons Chazelle could take away about moving forward after winning Best Director.
The outlier among the group is Steven Soderbergh, who took a singular approach: He went pop with Ocean's 11 after winning for the heavy Traffic. (He was also nominated for Erin Brockovich that year, making him the only one among this group to beat himself.) By the time of Ocean's 11, Soderbergh had seen more fluctuations in his career than directors twice his age: He'd leapt to stardom after the enormous success of sex, lies, and videotape, which came out when he was just 26 years old — making him the youngest winner of the Palme d'Or at Cannes. After sex, lies, though, he'd struggled for a period, with Kafka, King of the Hill, and The Underneath all flopping upon release.
Soderbergh then retreated into smaller fare with Schizopolis and Gray's Anatomy, and his viability as a Hollywood filmmaker became an open question. That all changed with Out of Sight in 1998, which kicked off the remarkably productive period that saw him through his Best Picture win. Despite their similar ages, Soderbergh's career after winning for Traffic couldn't have been much more different than Chazelle's is now — Traffic was his tenth movie — but the fact that his next outing was a star-driven, light-hearted caper like Ocean's 11 suggests that he'd learned quite a bit from his period post–sex, lies: He took the pressure off himself, waiting a couple years to dip back into experimentalism with Full Frontal and Solaris.
For Soderbergh, this turned out to be a good move. But more common for young Best Directors is to graduate to an even more ambitious project, as Nichols, Friedkin, and Coppola did. Nichols made Catch-22, an expensive adaptation of the Joseph Heller book, but it flopped, setting him off on a string of box-office disappointments. Friedkin made The Exorcist, which became one of the highest-grossing movies of all time. And Coppola, who at that point had already made three Best Picture nominees, undertook Apocalypse Now, which turned into a legendarily grueling production but has since become regarded as one of the greatest movies ever made.
Meanwhile, Hooper and Mendes took the middle way. Hooper adapted Les Misérables on a surprisingly low $61 million budget and earned himself another Best Picture nod, though he couldn't repeat as Best Director; fortunately, he could console himself with the movie's $442 million worldwide gross. For Mendes, Road to Perdition was a financial success and earned six nominations, though they didn't include Best Picture or Best Director. And Costner didn't return to directing until seven years later with The Postman, though his situation is of course a little bit different.
If there's anything to be gleaned from these experiences, it's probably that Chazelle is making a savvy move by taking on someone else's script. By directing First Man, he has the opportunity to polish his skills and decide what he wants to make his next true effort as a writer-director; after all, Apocalypse Now didn't come out until four years after The Godfather Part II. Of course, that could also result in another Sorcerer, Friedkin's passion-project adaptation of Henri-Georges Clouzot's Wages of Fear, which was a debacle upon release, though its reputation has improved greatly since then. If Chazelle decides to remake The Umbrellas of Cherbourg, that could be a red flag; failing that, he'll probably be fine.
*Correction: This post originally called La La Land a Best Picture winner. After a presenting error, the film did not actually win Best Picture (Moonlight took the award instead).